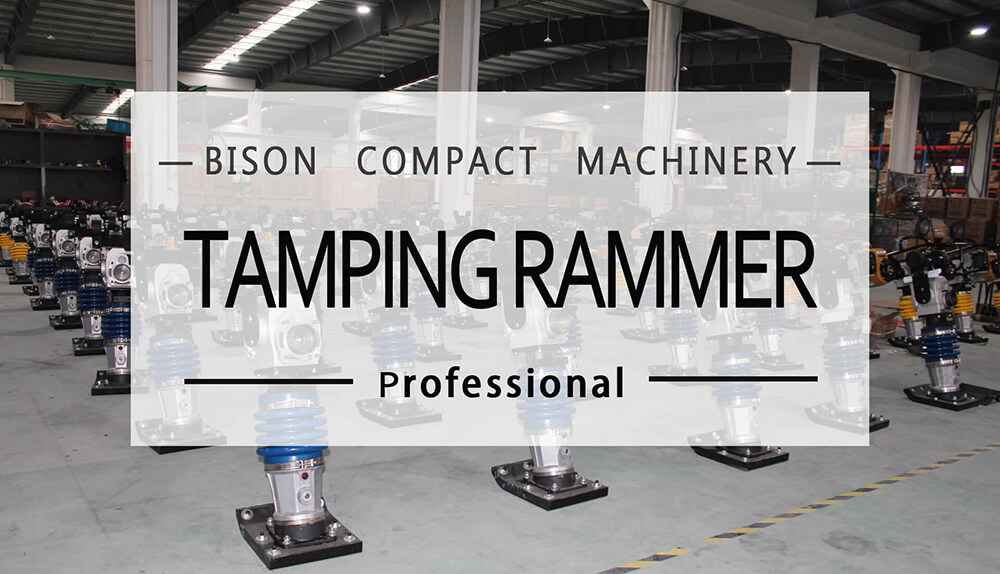 Proper compaction is important to prevent soil settling from occurring and resulting in costly maintenance or structural failure. The force of the tamper strikes the soil surface, leveling it and compacting it evenly. Tamper Rammer is very suitable for compacting the ground. To this day, BISON is known for its high-quality products and good service, and is one of the leading China tamper-hammer manufacturers and suppliers in China. BISON provides you with the most innovative and comprehensive tamping rammer product series.
What is a tamping rammer?
Often referred to as jumping jack tamper, which is a machine that compacts the ground. Its working principle is different from the plate compactor. Tamping rammers are designed to be tilted forward at an angle to allow them to jump forward during operation, creating a compacted soil surface by repeatedly squeezing the soil under their weight.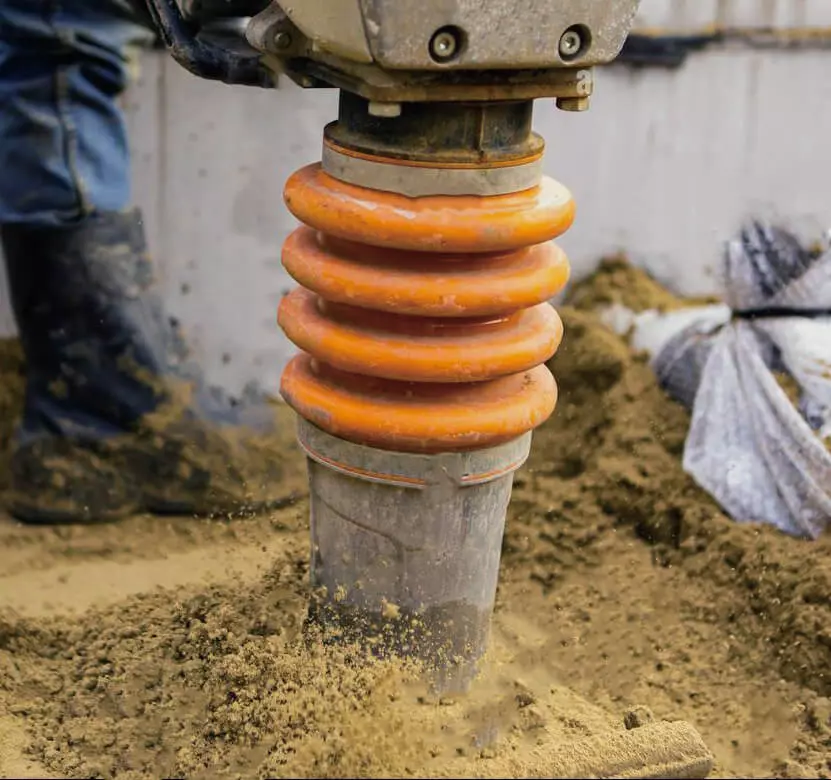 How does tamping rammer work?
It is mainly composed of four working parts: torque generator, gear, spring cylinder and plate shoe.
The engine or electric motor produces torque, which is then transmitted to the crank gear as a reciprocating motion. The crank gear ultimately transmits this movement to the bottom via a spring housed in the cylinder. As a result, a vibratory motion is created at the bottom of tamper.
The fuel used by the engine can be gasoline or diesel.
The advantages of tamping rammer.
BISON tamping rammers have a well-balanced structure that won't tip over when cornering or vibrating. The machine can be easily operated even in tight spaces such as narrow ditches for gas or water supply lines.
Tamping rammer is capable of applying powerful vibrational forces to the ground and allows compaction of layers 16 inches to 25 inches thick. Wholesalers can choose according to the compaction force required by most customers. As well as good vibration isolation, it can reduce operator fatigue.
At the same time, BISON jumping jack compactor has the durability to withstand the high stresses. The maintenance cost is low, the production efficiency is high, and the economic benefits are truly and effectively improved.
The most commonly used places for tamping rammers:
Tamping rammers are useful tools in the transportation, municipal engineering and construction industries for tamping curbs, abutments and street pavements small surfaces and narrow areas.
What soil can be used on:
Tamping rammers can be used for different types of soil. Some of the most common soil types that can be used are:
Compact loose soil or soil.
Fine gravel, clay or sand.

BISON provides a variety of tamping rammers that can achieve different types and sizes of operations, but there are three main factors that affect the ramming quality of the earth rammer, which we need to pay special attention to when importing:
Tamping rammer can have a larger surface area and a shallower fill thickness or depth, and vice versa. Also, the force applied by tamping rammer should be higher with a thicker or deeper fill, and vice versa.
surface area of tamping rammer ( shoe size )

The thickness or depth of the earth's surface that has been compacted or compressed

The impact force applied by tamping rammer
Plate compactor or tamping rammer: which one is for wholesale?
To compact the soil, the alternative equipment used is plate compactor. Often, many importers are often entangled in the choice between the two. So it is important to understand the difference between tamping rammer and plate compactor. Here, let's first understand how to choose between tamping rammer and plate compactor?
The main thing is to choose by the difference between soil types. Vibratory plate compactors are best for granular soils. In contrast, tamping rams are good at compacting cohesive soils.
Additionally, due to their wider base plates and greater weight, vibratory plate compactors are ideal for large flat areas, and they can get the job done faster and more efficiently than compactors. On the other hand, tamping rams excel in deep trenches or tight spaces where plater compactor might be difficult to access.
Truth be told, both tamping rams and vibratory plate compactors are great investments for your import business. It is highly recommended to add both to your shopping list and provide the best compaction service to your customers.
Learn more about BISON tamping rammer & plate compactor!
Different types of tamping rammers:
Motor tamping rammer
For indoor construction and renovation projects, as well as in poorly ventilated areas (such as ditches and hospitals and other sound-sensitive areas), cordless battery-powered tamping rammer is an ideal choice. Since the battery is separated from the rammer, the battery can be easily replaced without special tools. Emission-free and wireless working is entering a new dimension: We have created a real innovation with motor-powered tamping rammers.
2 stroke tamping rammer
2-stroke tamping rammers, provides some useful features, including the ability to refuel on site (instead of changing the oil and stopping work). Maximum productivity, performance and longevity. With fast forward stroke and high energy stroke, boot stroke and high impact rate can provide the best compaction effect. The compact design and low center of gravity make it possible to compact viscous and mixed soils in trenches and other restricted areas.
4 stroke tamping rammer
4-stroke tamping rammers, due to an innovative air filtration system, they offer excellent performance, long service life, and longer service intervals. BISON offers a variety of different weight classes to choose from.
BISON offers some light construction machinery, tamping rammer (or jumping jack) is a simple machine that is easy to use and understand compared to other concrete construction equipment. Whether it is a two-stroke tamping rammer or a four-stroke tamping rammer, BISON tamping rammer can meet EPA emission standards and overcome performance problems. However, when importing, it is still necessary to carefully confirm the following details with the wholesaler.
Tamping rammer engine
Tamping rammer engine is the most important part of rammer. Engine power determines how powerful the tamping rammer is and the efficient performance you will get from it. The greater the engine power, the greater the horsepower produced. It can increase the speed of compaction. If you don't want dust in the air to enter the engine during work, look for an engine with a better air filtration system. It can prevent the dust in the air from entering and prolong the service life.
BISON provides small gasoline engine, like Honda gx100 engine, Robin ER12 engine, loncin LC165F engine etc.
Polyurethane bellow
The bellows are an important part of tamping rammer. This part enables the rammer and inner spring to jump at around 700 beats per minute. BISON bellows are made of ribbed polyurethane and are located under the gearbox and above the tamper shoes. Well-crafted bellows have great durability after millions of jumps.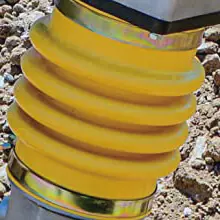 Rammed fuel system
The fuel system is important to the longevity of tamping rammer you purchase. Make sure the engine on tamping rammer has a diaphragm carburetor, which provides a steady supply of fuel to tamping rammer regardless of shock and vibration.
The body and floor structure are essential for a durable compact machine. The cheap ones may have a low cost, but they won't have a long service life.
Tamping rammer relies on impact to compact the soil, so vibration is unavoidable. But when the vibration reaches the worker's hands and arms, it becomes very annoying. BISON deliberately designed an additional anti-vibration handle.
Not many people consider transportation, even if it is a necessary aspect. Tamping rammer mainly works outdoors and may need to be transported from one construction site to another. Only when it provides good portability, it is possible to enjoy worry-free transportation.
Finally, please check the tamping rammer's stroke technique, compression strength, balance effect and number of impacts per minute before making a decision.
Tamping rammer spare parts
Parts availability is important with any equipment you buy. When purchasing the complete tamping rammer, it is necessary to import some spare parts appropriately.
At BSION, we wholesale quality construction equipment and tools, as well as vibratory plate compactors and cutters. Our tamping rammers are manufactured and tested to the highest quality standards to ensure effective, fast, efficient and safe compaction, giving you innovative and high-quality tamping rammers. China BISON is a professional tamping rammer factory and supplier.