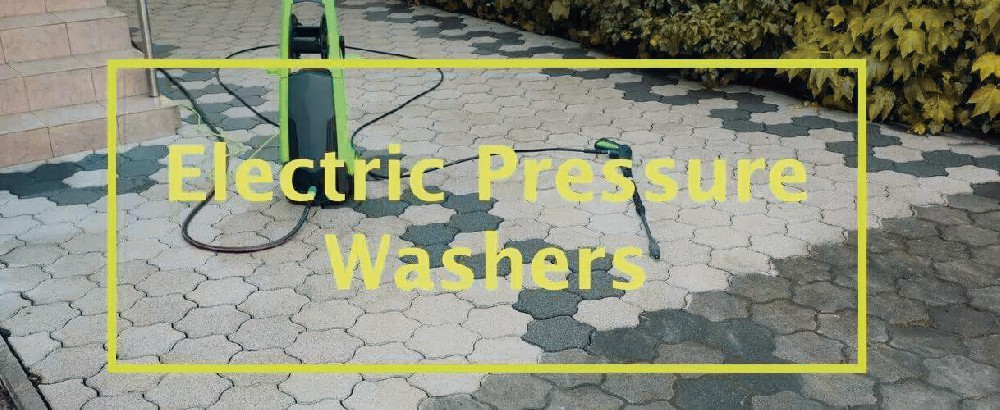 For years, the only option available to consumers who needed a nice pressure washer to handle large, arduous cleanups was a heavy-duty gas-powered unit. These certainly do the job well, but they are also noisy, produce harmful emissions, and cost a lot of money to acquire, maintain, and operate. But over the past few decades, electric pressure washers have become more common. Today, they are the main choice for most residential and even some commercial applications, and they are also favored by more importers.
Next, I will first introduce the electric pressure washers and their advantages and disadvantages, then further understand the main types of electric pressure washers manufactured by BISON in the electrical field, and then discuss some factors to be considered when purchasing electric cleaning machines, and basic safety maintenance skills.
What is electric pressure washer?
It is a kind of cleaning equipment that uses high pressure water to clean the surface. It is mainly composed of a motor and pump, through the high pressure hose will increase the water pressure, through the spray gun output. Triplex plunger pump of electric pressure washer is driven by induction motor. Electric-powered, everyday household pressure washers are known to be very cost-effective cleaning devices, because, in outdoor cleaning, you cannot exceed the reliability of electric pressure washer. Compared with gasoline pressure washer, it can provide power only by pressing a button, the operation is simple, the work is quieter, and the price is lower.
Users can use electric pressure washer to clean hard outdoor surfaces such as patios, walkways, decks, and walkways. electric pressure washers mainly have the following components, making it an excellent performing device. These parts are
Industrial grade induction motors have good starting performance and low noise levels.

100% copper wire, aluminum housing.

IP55 waterproof, built-in over-current, leakage protection

Triplex plunger pump with pressure gauge.

On-off switch, auto start, and stop function.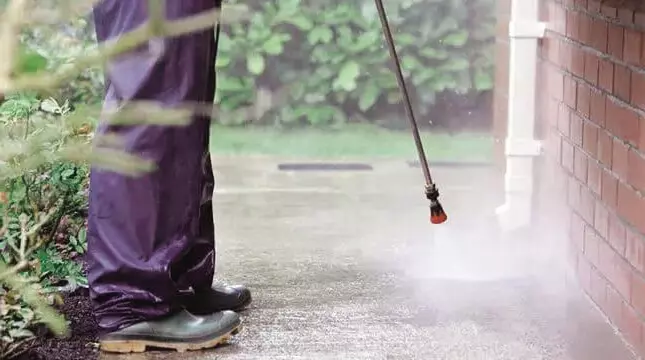 Benefits of an electric pressure washer
There are many reasons why China electric pressure washer is a buyer's choice. And because of its great value, many consumers turn to electric pressure washers to make cleaning easier.
Powerful motor function - the motor runs more stably and can easily solve most household cleaning tasks. For example, windows can be cleaned at home with a BISON light electric washer much faster than manual cleaning and saving a lot of time.

Simple to use - users simply plug the BISON electric washer into an outlet and start using it. No need to buy or mix fuel, it will run as long as there is electricity.

Maintenance Free - Electric pressure washers require minimal maintenance compared to air pressure washers.

Lightweight - Household electric washers are significantly lighter than BISON's air pressure washers of the same power range, which have a heavier engine and a heavier fuel tank.

Quiet Operation - These pressure washers are fairly quiet and make about the same noise as a pressure washer, making them ideal for home use.

Greener - Electric washers are emission-free and do not produce any by-products that are harmful to the environment.

More affordable - BISON electric pressure washers are also cheaper to purchase than their gasoline-powered counterparts.
However, if you will be working in remote areas or need something that is easy to move, gasoline or diesel may be a better choice.
Types of BISON Electric Pressure Washers
Lightweight Electric Washer
These pressure washers provide pressures up to 1799 PSI and are primarily used in light duty applications such as cleaning automobiles, weather siding and outdoor patio furniture.
Medium Electric Washer
This type is commonly used to remove mold from patios, decks, and house siding. They are also good at cleaning up pollen and debris from fences. Most work pressures between 1800 and 2699 PSI.
Heavy Duty Electric Washer
At 2800+ PSI, these are one of the most powerful models you can buy for residential use. Any model offering above 3100 PSI is classified as a commercial-grade model.
BISON heavy-duty pressure washers are most commonly used to strip siding, clean two-story homes, and remove stains from driveways, sidewalks, and decks.
Commercial Pressure Washer
BISON commercial pressure washers operate at 3000+ PSI and 3-4 GPM. They are great for heavy duty jobs such as removing grease, cleaning large areas, and stripping paint from brick or concrete.
Residential Pressure Washer
Residential pressure washers usually provide a working pressure of 2000 PSI and a flow rate of around 2 GPM. They are light to medium duty cleaners that can be used to clean driveways, siding or bricks, remove mildew from decks, remove paint from fences, and more.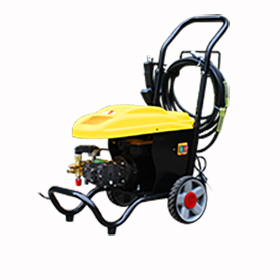 Single-phase electric pressure washer
BISON single-phase electric high pressure cleaning machine can reach 1450psi to 2610psi, and the maximum power can reach 3.7kw. Anything over 3.7kW on the market is a 3-phase electric washer. And because of the power supply, BISON only manufactures 220V50HZ and 60HZ at this stage.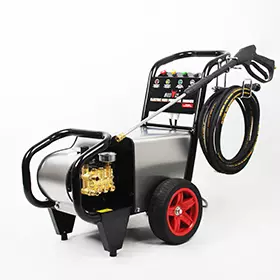 Three-phase electric pressure washer
While covering the power section of the single-phase electric pressure washer, Three-phase electric pressure washer can also achieve a pressure output of more than 2900psi and a high power of 4-7.5kw. Voltage frequency 380v 50hz, 60hz.
How to choose electric pressure washer?
There are different electric pressure washers available today, so how do you know if an electric pressure washer is the right one to buy? How to choose a good one? Read on to find out.
Pressure washer water inlet
The water inlet is basically the hose that connects the machine to the water supply. Inside the inlet is a filter that prevents dust and particles from entering the washer and clogging it. This small filter plays a vital role in keeping the machine running smoothly, as particles, no matter how tiny, can wreak havoc or reduce water pressure. Electric pressure washers require a certain amount of water pressure for optimal use.
Pressure washer induction motor
Induction motors are the most commonly used type in electric pressure washers. Power outputs and designs vary due to the size and power output required. It will be described in more detail in the following content. It is worth mentioning that each electric washer from BISON is equipped with an efficient and powerful induction motor, which enables the electric washer to achieve stable operation.
Pressure washer pump with pressure gauge
The high-pressure pump is the other main part of the pressure washer and is responsible for drawing water from the water source and pushing it into the spray gun. BISON adopts PG200 and PG250 crankshaft pumps, and is equipped with a pressure regulating and pressure relief valve that regulates pressure. Provide independent optional thermal protection valve and suction nozzle function, with the characteristics of high reliability and long service life.
pressure gauge
Not everyone really cares about a pressure gauge, but it helps. The pressure gauge will let the user know the PSI (pounds per square inch). If the user wants to increase or decrease the water pressure, the decision does not have to be guesswork. With this meter, practical decisions can be made based on the current water flow.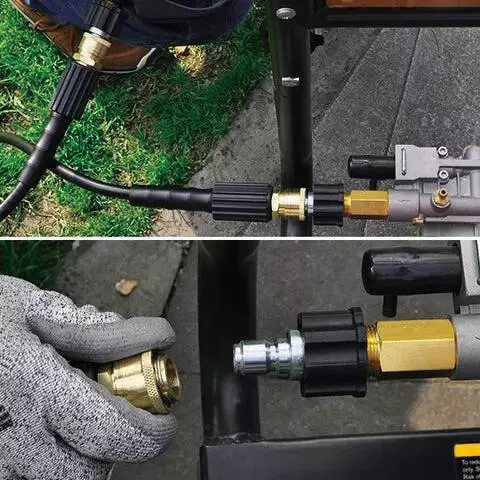 Pressure washer shell material
To save weight, many manufacturers tend to incorporate plastic into their construction. Plastic isn't a bad choice as long as it's limited to the case and outer structure. Connections and vital parts should all be metal, as plastics have poor reliability. BISON household electric cleaning machines use plastic casings, but commercial grades use aluminum waterproof casings.
Power cord and hose range
The high-pressure hose is the tube at the other end of the electric pressure washer through which water leaves the pump. Pressure washer hoses differ from garden hoses in that they are designed to withstand high pressures, sometimes as high as 6000 PSI. But with an electric washer, a longer hose range is also required, as the electric washer can only move as far as the power cord allows.
Pressure washer safety features
Make sure your electric pressure washer offers safety features against vibration, accidental twisting of wires, and automatic shutdown. You can connect directly to the power supply through the built-in wired connection. With an electric pressure washer, you will not have any trouble with refueling or startup problems, and you don't have to worry about damage to the pump due to long idling.
The above is what you need to pay special attention to when purchasing an electric cleaning machine. I believe these contents will also help you make a better purchasing decision.
Come and become a BISON partner!
Electric pressure washer maintenance tips
After using an electric pressure washer, users should follow several steps to properly clean and store it. Doing so will extend the life of the device.

Cleaners should always be rinsed out of the pressure washer.

After turning off the pressure and disconnecting the power, the gun should be run until the water stops flowing.

The trigger lock should be turned on and the pressure washer should be allowed to cool.

Pressure hoses, gun extensions, gun and garden hoses should be disconnected and water should be drained from them.

Any remaining water in the pump should be removed. For electric models, the unit should be turned on until water comes out of the pump.

Any debris from the outside of the pressure washer should be removed.

After thorough drying, the electric pressure washer should be stored in a location that will remain dry and protected from the elements.

But when using these devices, please pay attention to safety. If any high-pressure cleaner is aimed at people or animals, it may cause injury.