Buying China small diesel engine is an investment. The process can be a little complicated.
If you need to buy diesel engine and are not sure which one to choose, BISON lists some of the advantages and disadvantages of diesel engines, along with a basic description of them. There are also various important factors to consider when choosing best diesel engine from various angles, I hope it will help you when purchasing diesel engine.
What is diesel engine?
Diesel engines are powered by diesel fuel. Known for its impressive efficiency, it is an internal combustion engine that uses compression ignition to convert energy in diesel fuel into rotational mechanical energy and can be used in a wide variety of industries.
How does diesel engine work?
When diesel engine is working, the diesel is injected into the combustion chamber of engine and ignited by the high temperature generated when the gas is compressed by the piston of diesel engine. Diesel engines operate using a four-stroke combustion cycle. These include: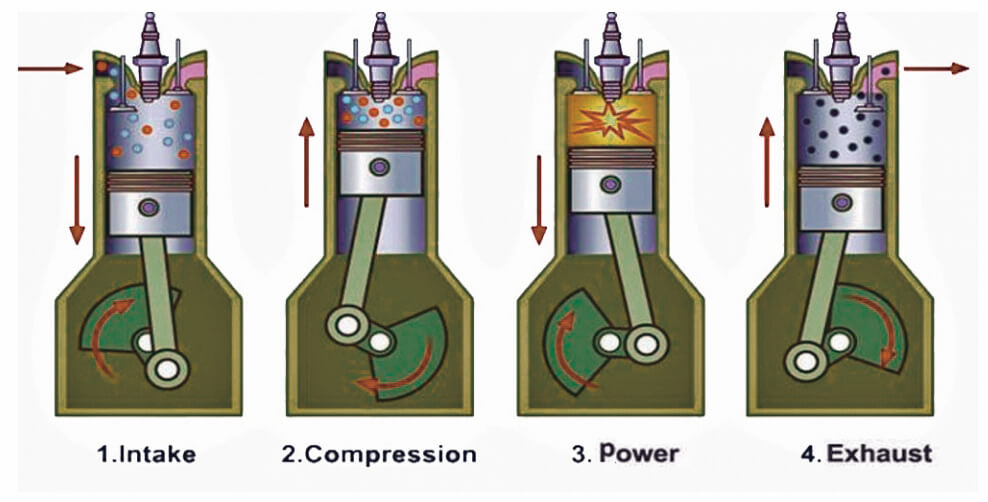 Intake stroke: Air enters the cylinder through the intake valve and piston moves downward.

Compression stroke: The piston moves up, compressing air.

Combustion stroke: Fuel is injected and ignited at a specific time, forcing piston to move down again.

Exhaust Stroke: When the piston moves back to the top, the exhaust gases produced during combustion are pushed out.
The heat of the compressed air ignites the fuel in diesel engine. Modern diesel engines are twice as efficient as petrol engines, which means they can work longer using the same amount of fuel.
Advantages of diesel engines
Diesel engines provide efficient, powerful and cost-effective performance in virtually any industrial setting. The main advantages of diesel engines include:
Fuel efficiency and cost. Diesel engine design ensures excellent fuel efficiency, resulting in significantly lower operating costs over time. Even in markets where diesel costs slightly more than gasoline, BISON diesel engines provide a sufficiently large difference in fuel efficiency that their long-term operating costs remain low.

Engine durability. Diesel engines eliminate spark plugs, and without them, diesel engines can often run longer without maintenance or repairs. Also, diesel engine components tend to be stronger overall because they have to withstand the extreme compression forces. Taken together, these factors mean that diesel engines can provide an incredible ROI even before lower operating costs are considered, and wholesale BISON diesel engines would be the right choice!

Cold weather performance. Spark plugs can be difficult to ignite at very low temperatures - especially those that are old or damaged. Since diesel engines don't rely on spark plugs, they have never had this problem. Moderately low temperatures are fine for modern diesel engines, although extreme cold may cause the diesel to become gelatinous as the paraffin in the fuel hardens. Winter blend diesel fuel solves this problem by adding hydrocarbons with lower freezing points, so if cold weather performance is a concern, BISON diesel engines are still the better choice.

more torque. Due to their higher compression, diesel engines produce much more torque than gasoline engines, making diesel a better choice for heavy-duty industrial applications.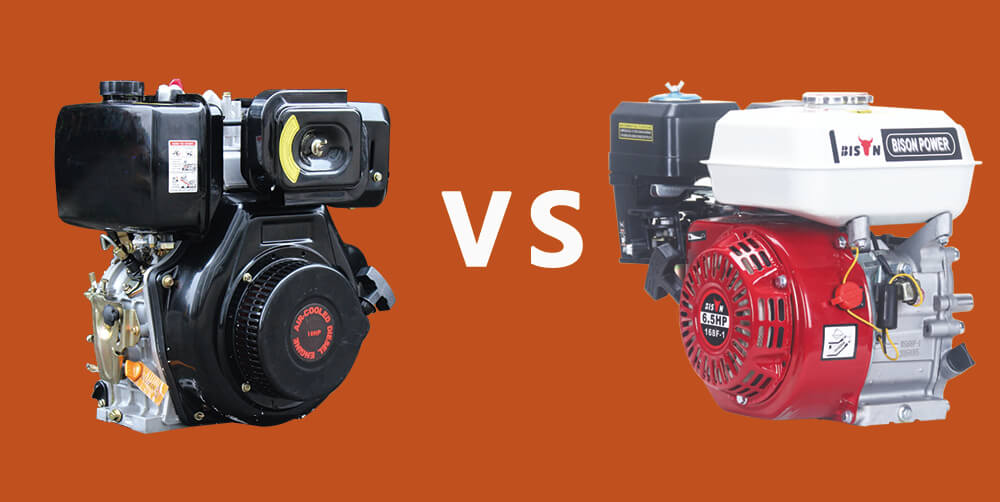 Gasoline engine VS diesel engine
Both of these engines are internal combustion engines. They rely on a series of rapid explosions in the engine to convert fuel into mechanical energy and propel the vehicle forward. The difference is how these explosions happen.
Gasoline engines rely on a mixture of air and fuel that is ignited by spark plugs. Diesel engines first compress air to ignite the fuel, which then expands and moves the piston. This heats up the air. The fuel ignites when it encounters hot air.
If you can choose diesel engine that best suits your needs, you will never be disappointed. Therefore, it is crucial to know which style is suitable for a specific application. To make the best purchasing decision, it's best to compare these engines.
Here's how to determine which is best diesel engine:
(1)2-stroke and 4-stroke diesel engines
Not all diesel engines work the same way. According to the different cycle modes of diesel engines, there are two main types of diesel engines on the market today: two-stroke and four-stroke.
How does two-stroke diesel engine work?
Two-stroke diesel engines only need to complete the entire cycle of intake, compression, combustion and exhaust in two strokes of the piston.
How does four-stroke diesel engine work?
In a four-stroke diesel engine, the piston completes two strokes per revolution: a compression stroke and an exhaust stroke, each followed by a return stroke. The spark plug fires every other revolution, and the piston produces power every four strokes.

Each type has its own advantages and disadvantages, which we discuss below.
Two-stroke diesel engines are lighter, more compact and simpler than four-stroke engines. Manufacturing costs are lower.

The four-stroke engine is also quieter, and the two-stroke engine is noticeably louder.

Because two-stroke engines are designed to run at higher revs, they also tend to wear out faster. Four-stroke engines are generally more durable. Having said that, two-stroke engines are more powerful. A two-stroke engine produces more torque at higher revs, while a four-stroke engine produces more torque at lower revs.

Two-stroke engines are simpler in design and therefore easier to service. They don't have valves, they have ports. Four-stroke engines have more parts, so they cost more and are more expensive to maintain.

Two-stroke engines require premixed oil and fuel, while four-stroke engines do not.

A four-stroke is more environmentally friendly; in a two-stroke engine, the burned oil is also released into the air with the exhaust.
| | |
| --- | --- |
| Four-stroke diesel engine | two-stroke diesel engine |
| heavier, more complex | lighter, more compact, simpler |
| more torque at lower revs | more torque at higher revs |
| quieter | louder |
| more durable | easier to wear out |
| high maintenance cost | easier to maintain with low maintenance cost |
| oil and fuel need be mixed in advance | not be mixed in advance |
| more environmentally friendly | produces more waste gas |
| more parts, higher manufacturing costs | lower manufacturing costs |
Two-stroke and four-stroke diesel applications:
Two-stroke engines are commonly used in small applications such as RC cars, lawn tools, chainsaws, marine engines and off-road vehicles.
On the other hand, BISON four-stroke diesel engines are ideal for applications such as motorcycles, ATVs, marine engines, etc.
(2)water cooled and air cooled diesel engine
Since diesel engines generate both mechanical power and waste heat energy, they need to be cooled to prevent overheating and failure. The cooling method of diesel engine can be divided into water cooled and air cooled.
Water-cooled diesel engine
In water-cooled diesel engine, water circulates in the engine to absorb the heat from compression and combustion. This coolant then flows to the radiator (heat exchanger), where it cools and returns to the engine cylinders.
Advantages and disadvantages of small water-cooled diesel engines: The cooling effect of small water-cooled diesel engines is good, and the cooling intensity can be easily adjusted when the temperature or workload changes, so that diesel engine always works within the temperature range. Specified temperature range (65 °C ~ 95 °C). In addition, it can also be preheated with hot water in winter, which is convenient to start. However, due to the limitation of water cooling, the cylinder liner also has the disadvantage of easy scaling and cavitation.
Air-cooled diesel engine
Air-cooled diesel engine uses an engine cylinder design with radiators around the cylinder and on top of the piston cylinder head. These fins draw heat away from the cylinder and dissipate it. Air cooling is a very simple, low-cost solution.
Air-cooled diesel engines have the advantage of being lighter and eliminating the need for radiators, pumps, thermostats, coolants or hoses. The downside is that they don't warm up quickly and don't maintain a constant engine temperature. This will affect diesel engine performance and emissions during climate changes such as extreme cold or heat. Air cooled diesel engine needs fuel to function properly.
Which diesel engine is better?
There is no single answer to the question of which is better two-stroke or four-stroke diesel engine, water-cooled or air-cooled diesel engine. - Your choice depends entirely on which wholesale customers prefer and their main application. BISON offers a wide range of diesel engines for different applications, see product list for details.
Industries and Applications of Diesel Engines
Diesel engines are sometimes found in commercial passenger vehicles, but not as often. More commonly, diesel engines power large heavy-duty industrial vehicles that benefit from the extra power and torque. These applications include:
railway locomotive

marine vehicle

construction vehicle

agricultural equipment

heavy duty truck
In all of these areas, diesel offers a reliable, high-performance option for generating electricity exactly where and when it's needed most.
BISON diesel engine consists of hundreds of parts.
what are the main diesel engine parts?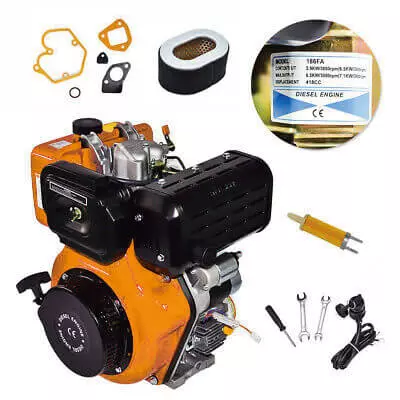 engine block

piston

crankshaft

fuel injection pump

fuel injector

start the motor

head

valve

Fuel Filter

oil filter

air filter

flywheel
EXPLORE DIESEL ENGINES WITH BISON!
Are you ready to look for diesel engine? Maybe you want to do more research on engine before committing to a specific model! Either way, you can rely on BISON to provide you with more professional and comprehensive information!
Explore more on small gasoline engine