An auger is a drill, but it has a specific purpose compared to the drill in a portable toolbox. Small drill bits can help home users drill holes in walls. On the other hand, augers are large drill bits that allow customers to drill over a larger surface area. Earth auger helps to create voids in the ground for different purposes. But manual, electric or gas powered, with only one or two operators...so many options often get us into trouble!
If you're considering importing the right China earth auger, the following can help you gain a basic understanding of earth auger, find the type that fits your needs, and several important considerations during your search to make the right buying decision.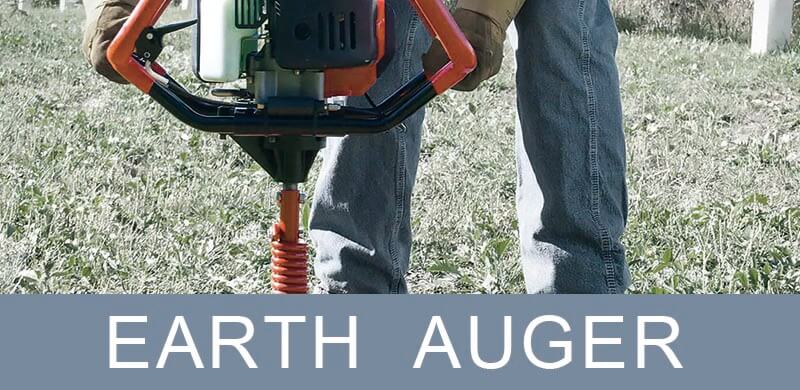 What is earth auger?
First of all, earth auger is a drilling device that mainly consists of a rotating helical blade or bit that acts as an auger to easily remove drilling material. The rotating action of the blade creates a hole and removes material from it. Here, the auger specially used to excavate the column hole is called earth auger ( ground drill ).
Why do you need earth auger?
The tools most people are likely to use for digging—shovels, pile drivers, digging sticks, etc.—require a lot of arm and hand strength. Additionally, these tools require users to bend over while working, putting a lot of stress on the back. earth auger get the job done faster than shovels while allowing the operator to stand upright. There is also less pressure on the hands and arms, as auger should remain stationary while drilling.
For health reasons alone, earth auger is a worthwhile investment. However, for those who do a lot of digging, powered earth auger becomes a necessity. Home gardeners faced with dozens of bulbs and annual and perennial plugs will find it takes far less time to get the job done with a flower growing screw. On larger jobs—such as fencing or tree plantations—powered earth auger minimize digging time and labor required, saving contractors and farmers costs.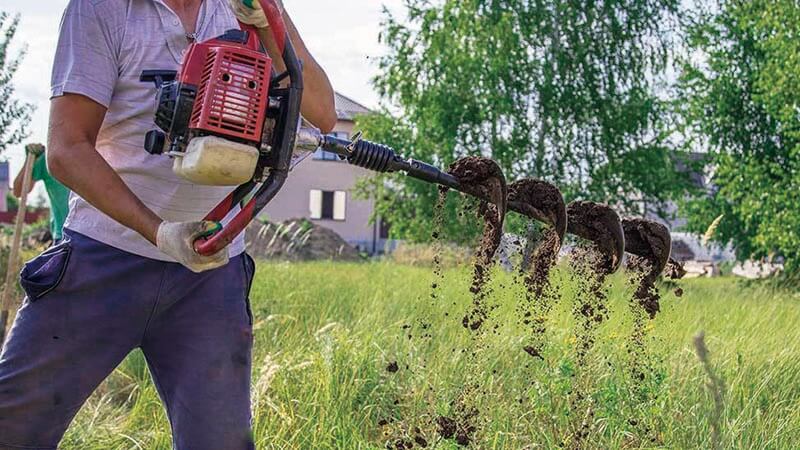 Different types of earth auger
Depending on the energy source used, earth auger can be manual, electric or have a gasoline engine.
handheld earth auger
In most cases, handheld earth auger is best for simple jobs like small gardening. They rarely have the ability to cut thick roots or chew medium-hard soils, and usually dig narrow, shallow holes.
electric earth auger
Electric earth auger can be powered by batteries or a power cord. Battery powered models tend not to have much use time before they need to be recharged/replaced. There is a limited range of power cord models without extension cords. They are best for medium to soft soils and small to medium jobs.
gasoline power earth auger
Gasoline power earth auger is best for drilling holes in the ground, farms, nurseries, greenhouses. Mainly used in agriculture for drilling holes in banana plantations, vegetable crops and other farms. It can also be used in agricultural institutes, new horticultural plantations, highway administrations, fencing contractors.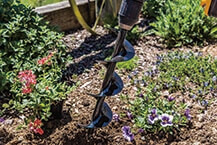 At the same time, according to the different hand-held methods, it can also be divided into the following categories:
One-person earth auger
If all you need to do is dig a bunch of small holes around the yard, a one-person earth auger will suffice. As the name suggests, solo earth auger is used and operated by one person.
The advantage of using single earth auger is its lightweight construction and generally affordable price tag. This drill can weigh up to around 40 pounds, so it's relatively easy to carry around.
Two people earth auger
Two-person earth auger is a bit heavier than the single-person one and is designed to handle heavier tasks. These augers are usually powered by a 2-stroke or 4-stroke engine and require two people to operate correctly. If you need to dig too many bigger holes, or deal with heavy clay, hard and rocky soils, two-person auger is the perfect tool for the job.
Wheel type earth auger
Power from an engine or electric motor turns the wheels, which burrow into the ground as they move forward. The auger shaft rotates in the hole as it moves down, making it self-feed. Wheel type earth auger can be used to drill holes in any type of soil or ground, including sand and clay. Wheeled earth auger is popular with contractors because they can be easily transported from one job site to another.
What to consider before buying earth auger
Now that you are completely familiar with the various styles of earth auger, it is not enough, you need to pay attention to some details when importing earth auger. Below is a detailed guide to consider when buying earth auger.
Manual or driven earth auger
First, you need to decide which type of auger will best suit your needs. Rarely used and only for light excavation, then manual earth auger is sufficient as it is easy to use and much less expensive. However, for extensive landscaping, the choice of a fuel- or electric-powered earth auger is highly recommended, making this daunting task more manageable.
Engine or motor
Once the type of auger required has been determined, the power of the rig must be the first consideration. Gas powered earth auger range in power from 2 to 5HP. More powerful engines are best for drilling and digging in harder soils.
You also need to decide between two-stroke or four-stroke engine. Two-stroke engine is cheaper, but require regular maintenance and are loud. Of these, four-stroke engine is quieter and easier to maintain, but more expensive.
For electric earth auger, electric power heads usually come with information on wattage and amperage. Models with 1,200 watts or more work best; also make sure the motor has at least a 10 amp motor to prevent it from overheating.
Drill diameter size
BISON has different earth auger sizes to choose from, you can choose single earth auger bits from 2 to 12 inches and double earth auger bits up to 14 inches in diameter.
2" and 3" augers are ideal for gardeners to quickly and easily grow bulbs, plugs and bedding plants.

4" and 5" augers drill a larger hole, ideal for setting up smaller fence posts or growing annuals and perennials in quart-sized pots.

7" auger is large enough to grow annuals, perennials, trees or shrubs in gallon-sized pots. It also drilled a hole big enough for the 4×4 post.

8" and 9" auger is ideal for growing potted plants in 2-gallon containers. These are large enough to accommodate larger fence posts or 6×6 posts.
Drilling depth
Depth is another factor in choosing earth auger. To dig deeper, more powerful engines and larger drill bits are required. Typically, auger bits are 2.5 feet or 76 cm deep. To dig deeper, it can be extended up to 7.5 feet.
Weight
Weight is the determining factor in the use of power drill earth auger. If it's heavy and it's hard for the user to move it, it becomes a burden every time you want to use it.
Handle
Last but not least is the handle. The handle must be strong because the machine can handle a lot of torque. In order to allow users to have a better comfortable experience, it is more recommended to buy a wider handle.
Earth auger attachment
BISON's additional attachments/accessories are highly recommended for importers to sell with wholesale earth auger, which can assist with some specific tasks such as tree potting. Alternatively, if the user needs to dig deeper, an extension shaft can simply be attached to achieve the desired depth without purchasing a new auger bit.
Ice drill
It is worth mentioning that customers are required to confuse earth auger with ice drill, but it should be emphasized that earth auger are not ice drill. In contrast to earth auger, ice drills are sharp enough to cleanly penetrate thick ice and are power heads designed for ice fishermen to get up and run in cold weather.
These are some of the key points for buying earth auger. While earth auger are very useful, they can be dangerous if proper machine operation and safety precautions are not followed.
Correct operation of earth auger
Carefully measure before excavation.

Use a shovel to dig a small pilot hole to prevent the drill from moving.

Keep the auger vertical when digging.

Step on the accelerator, when the electric drill starts to work, be prepared to use force clockwise.

These tools cannot be reversed like a power drill, so they are often pulled up to remove loose dirt holes.

Digging rods help you fine-tune the hole.

Remove the last piece of loose soil with a shovel.
Earth auger safety
Remove any loose material from the ground.

Respect torque. If the auger hits a tree root, rock or other obstacle, it has enough torque to throw the operator off balance, lowering the throttle to ensure a quicker release of the clutch. In the unlikely event of a kickback, be prepared. Don't drill too close to walls or other structures, as the bounce could knock you out.

Overuse of the back muscles is a common mistake. Remember to lift with your legs and absorb the shock.

Knowing where the off switch is, you can stop the machine immediately.

Keep the auger upright while resting between holes.
By following these operating steps and auger safety precautions, you will have a better drilling experience.
Let BISON help generate new business opportunities and greater revenue
At BISON, all kinds of earth auger is carefully designed and reliable in quality to meet a wide range of needs, from patios to large flower plantings, fencing drilling, and more, these earth auger can be easily completed, making drilling a simple job!