How to choose the perfect petrol-powered high pressure washers?
At present, the market is flooded with a wide variety of China petrol pressure washer types. So are you also confused about choosing high pressure washers?

Petrol high pressure washers completely rely on petrol as its main power source, in terms of its design, can be configured with different pressure guns and spare nozzle, and equipped with different tire sizes and rack styles. Therefore, most suppliers liking manufacturing petrol pressure washers in different styles to cater to different market preferences. At the same time, there are other factors not mentioned in the beginning, together affect the variety of petrol cleaning machine styles.
So please read on and you'll learn more about some of the things to consider when purchasing a petrol pressure washer, including understanding its pros and cons, styles, and a guide to choosing the best petrol pressure washer etc.
How do BISON petrol pressure washers work?
Think of petrol pressure washer as advanced and powerful hose sprayer.
The working principle of petrol pressure washer is simple. You connect the water hose/pipe to the inlet. The internal combustion engine drives a pump, which accelerates the flow of water. The water is then compressed (increasing its pressure) and expelled through a very small nozzle.
Advantages of petrol pressure washer:
No power needed

Can be used frequently

Longer service life

Greater motivation and pressure

It takes less time and effort to clean a larger area
Disadvantages of petrol high pressure washer:
Petrol pressure washers sizes guide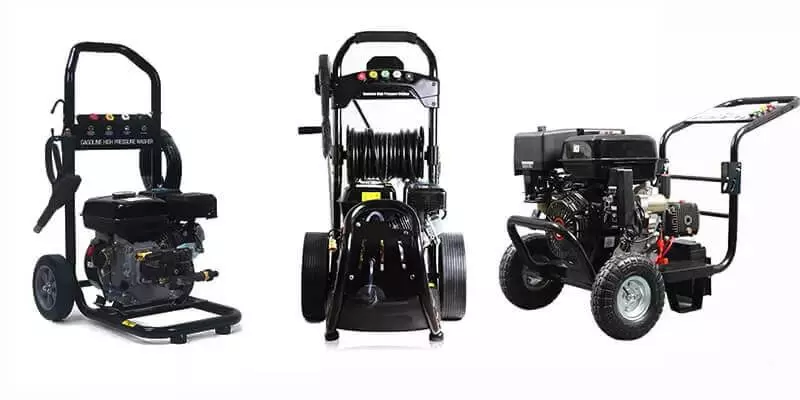 BISON Pressure washers can be graded from light duty to heavy duty. Choosing the right type of petrol pressure washers for your customers is crucial.
| | | | |
| --- | --- | --- | --- |
| Pressure washers type | light duty | medium duty | heavy duty |
| PSI | 1300 - 1900 | 2000 - 2900 | 2800 - 4000 |
| GPM | 1.0-2.0 | 2.1-3.0 | 2.8-4.0 |
| CU(Cleaning Units) | 2000 - 5750 | 6240 - 9720 | 10080 - 16000 |
| Application | simple cleaning | medium cleaning | daily cleaning |
Light duty petrol pressure washer
With a PSI range between 1300 and 1900 PSI at 2gpm, it's best for smaller, more delicate jobs around the house. Ideal for cleaning cars, patio furniture and grills.
Use our small petrol pressure washer to clean your car, outdoor furniture and outdoor areas. Use our medium-sized petrol high-pressure washers to treat garage floors, decks, driveways and house siding.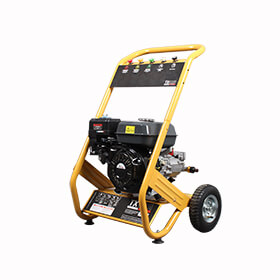 Medium duty petrol pressure washer
With a PSI range between 2000 and 2800 PSI at 2-3 GPM, medium-sized petrol pressure washers can handle a lot of work without pulling a fortune out of your customers' wallets, use our medium-sized petrol high-pressure washers to treat garage floors, decks, driveways and house siding.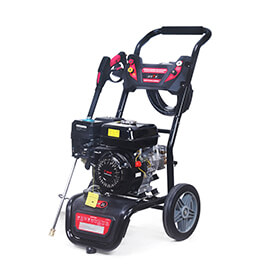 Heavy duty petrol pressure washer
With a PSI range of 2800-4000, 3-4 GPM, with a more powerful and durable engine and pump for everyday use. Use our fearless commercial gasoline pressure washer to remove the most stubborn stains, remove paint and remove rust or graffiti.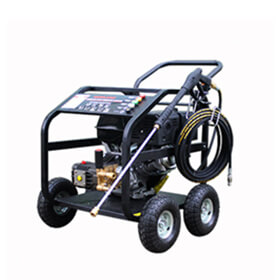 What petrol high-pressure washer features should I look for?

After confirming whether it is light or medium-sized petrol high pressure washers, importers should pay attention to some features before purchasing a BISON petrol pressure washers:
Engine capacity
Final power output is determined by engine capacity and pump type. The more the engine puts out, the higher the pressure can be and the ability to increase it further.
Pump type
Not all pumps provide the same output. Also, the brand and manufacture of the pump is just as important as the design. Choose a pump that has a long run time and can be serviced.
Portability
Not all petrol washers are easy to move. Although most come with wheels, it is recommended to try to choose those with large solid wheels and a sturdy base.
Frame structure
The BISON Washer adopts more powerful wheelbarrow stance to make more room for a larger engine and pump. The frame is welded steel and shall contain vibration isolators engine mounts.
For more specific product features of the BISON petrol high pressure washes, please click the relevant link for specifications.
Do I need accessories for petrol pressure washer?
Buyers are recommended to consider purchasing some accessories to supplement the petrol pressure washer. They will make users more efficient and get their work done more easily. For example, there are specially designed nozzles that control the strength of the water coming out. With them, customers can adjust the process to each specific job.
Nozzle of petrol pressure washer
BISON petrol pressure cleaners usually come with five colour coded nozzles.
The nozzles are color-coded to ensure that the user works with the correct nozzle without damaging the underlying surface.
Nozzle color indicates the Angle of the water or the size of the spray fan.

The larger the Angle or size of the spray fan, the less powerful the spray.

Focus Angle or spray fan for a very powerful cleaning solution.
The different color nozzles are coded as follows: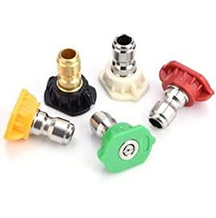 Black -- 65 degree jet Angle. Used in soap or chemical applications. After applying soap or chemicals to the area, use a different color nozzle for a deep cleaning.

White -- 40 degrees spray Angle. Apply to softer surfaces.

Green -- 25 degree spray Angle for garden furniture etc. Purchasing a new high pressure washer may not include a green nozzle.

Yellow -- 15 degree jet Angle for very powerful jet. Suitable for oil stains and paint removal.

Red -- 0 degree jet Angle for the most powerful jet. This setting marks concrete, so be sure to test in very careful areas.
Petrol-washer nozzles do wear out over time, but thankfully, they're easy and cheap to replace, making them ideal for selling to customers.
Brush
This is BISON's brush for cleaning delicate surfaces, as well as gently removing heavy dirt, ideal for home and professional users.
Extension rod allows easy access to heights
For a two- or three-story home, a pressure washer extension pole is the perfect tool. It attaches to your pressure washer so you can reach those hard-to-reach places.
Bevel bar used for cleaning gutters, etc
You can use bevel bar to blow away debris that has built up in the gutters.
Surface cleaner with rotating nozzle for more efficient lane cleaning
Surface cleaner is ideal for sidewalks and driveways for quick and easy cleaning of large outdoor surfaces.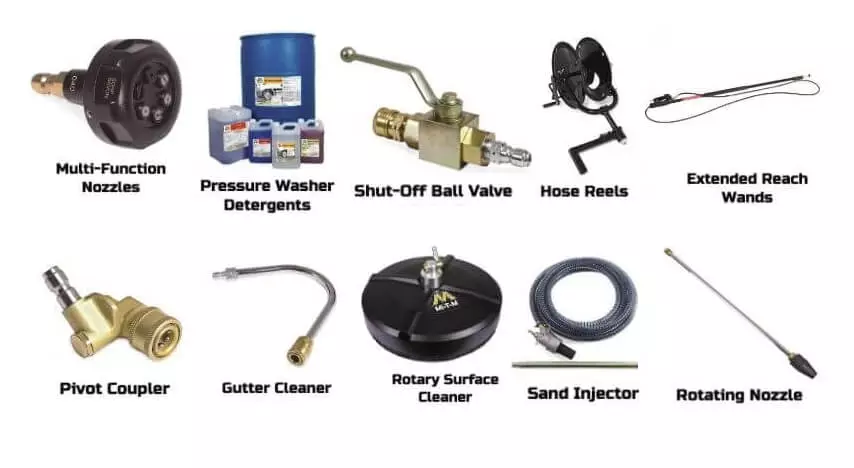 Petrol pressure washers are versatile and mobile. It does the heavy lifting typical of home improvement jobs in a fraction of the time like a brush and hose. It requires far less effort. And it uses less water.
Good petrol pressure washers can increase the value of the user's house with the least investment and has a broad market prospect.
Tips on using a BISON petrol pressure washer
Please remind purchasing customers to ensure proper storage of the air pressure washer. Even if the machine is weather resistant, it is wise to keep it in a dry and dark place. In this way, threats can be avoided and the overall lifespan of the petrol washer can be extended.
Garden hoses and water filters must be cleaned regularly to remove dirt and debris and help them function properly.
Always use the type of oil recommended by the manufacturer for the engine of a petrol pressure washer.
There should be a sufficient amount of oil to run the pump, and the color of the engine oil must be checked to see if the oil must be changed or the oil in the engine must be refilled.
BISON pressure washer equipped with a petrol engine is completely independent of any available power source. With its powerful BISON engine, it can meet almost any of your cleaning challenges. Our products are designed and manufactured under high-quality standards, allowing them to last longer than others.
Click to learn about high quality, efficient and fast gasoline pressure washer investment projects