Landscaping is a very demanding process and it requires the correct use of tools. One of the everyday tools used on the lawn is the brush cutter. Brush cutters are versatile and can be used for a variety of purposes, such as cutting overgrown, weeding, felling trees, trimming shrubs and grass, and more. But brush cutters come in different shapes and types. So which type are you importing? More importantly, which type of brush cutter is best for landscaping needs? The following information will give you a clear and in-depth understanding of the main uses and types of brush cutters on the market today, as well as factors to consider when purchasing to help you make an informed decision when importing brush cutters.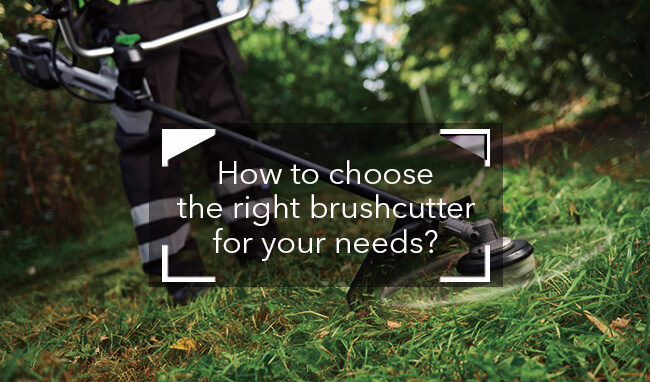 What is brush cutter for?
Brush cutter is a handy garden tool that's perfect for more difficult pruning tasks around the yard. Brush cutter steel cutting head with rotating blade for quick removal of tough debris. Small branches and shrubs can also be chopped off, and ordinary wire trimmers will fail. Specifically designed with a long, straight handle for easy overhead use, BISON brush cutter can trim overhead branches and hedges, making it a great tool for clean, quick and efficient yard work.
There are different types of brush cutters, from bent-shafts to electric and engine. Before importing this indispensable beautification tool, make sure you can choose the right type.
Brush cutter type:
When importing a new brush cutter, you will notice two different types of shafts: straight and bent.
• Bent-shaft brush cutter
Bent shaft brush cutter is constructed of lightweight steel for easy stand access and use. It's very simplified and has a working switch. It consists of an easy-to-start engine that mows the lawn well and helps remove weeds from the lawn. Bent brush cutters are suitable for urban environments such as flower beds, sidewalks or finishing driveways.
• Straight-shaft brush cutter
Straight-shaft brush cutters are suitable for large-scale farmland in rural areas, and are more efficient than bent-shaft brush cutters. They work best with tall grass and vegetation, and well-manicured lawns. With steel body and automatic cutting head, it is convenient and efficient to use.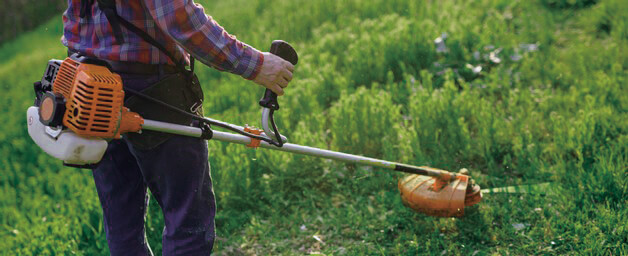 There is not much difference between the two and can be selected according to the main preferences of buyers in the market. At the same time, brush cutters can also be divided into the following three categories: handheld, walk-behind and trailed.
• Handheld brush cutter
Handheld brush cutters use manual controls and work on the engine to cut grass. They are suitable for small lawns and line grasses with little vegetation. Handheld brush cutter is easy to use and always comes with a pad that holds it in place with arm and back support to reduce stress on the body during prolonged use.
• Backpack brush cutter
Backpack brush cutters are used for trimming brush and low-lying vegetation, making them a must-have tool for any ground maintenance contractor who needs to clear areas. Ergonomic harness for operator comfort.
•Walk-in brush cutter
larger than hand-held brush cutters, easy to use, suitable for medium-sized lawns with moderate vegetation. Can also be used for hay. Use walk-in brush cutter to cut sharp, fine grass and reduce stress on your lawn by removing all kinds of weeds.
• Trailed brush cutter
Trailed brush cutters are ideal if you're cutting larger fields with dense vegetation. Attached to a garden tractor or ATV, these cool machines can efficiently cut through thicker shrubs and weeds.
Of course, from a fuel point of view, BISON brush cutters can also be divided into gas-powered and electric.
• Electric brush cutter
Electric brush cutters are almost silent, they don't produce any smoke. Therefore, they are the best choice for backyard brush cutters.
Corded electric brush cutters: Corded brush cutters are cheaper, last longer without batteries, and are lighter.
Cordless electric brush cutter: Use electricity instead of fuel to run brush cutter engine, making it environmentally friendly. In addition, it can also be used in noise-sensitive areas such as hospitals and schools. But it can only be used in a small area with sparse vegetation, and does not provide much output in a short time.
• Gas-powered brush cutter
Gas-powered brush cutters are a good option if you need to work in a particularly large area, or if you need to be able to move brush cutter away from an outlet where the battery can be charged.
Two-stroke engines: Two-stroke engines are by far the most popular choice because they are generally lighter and more compact. And because they have fewer moving parts, two-stroke engines are generally more powerful, more reliable and easier to maintain. As a result, brush cutters running on two-stroke engines are more efficient and can cover large areas in less time. They are more suitable for lawns with less vegetation. However, they require you to mix oil and gas yourself.
Four-stroke engine: Four-stroke engines use gasoline, so there is no need to mix the fuel yourself. They are more environmentally friendly, with nearly 70% fewer emissions.
They also vibrate less, which means less fatigue. However, they are heavier and larger than two-stroke brush cutters, so carrying them for long periods of time is often very challenging. At the same time, the maintenance cost of the four-stroke engine is also higher. Mainly suitable for large yards and dense vegetation.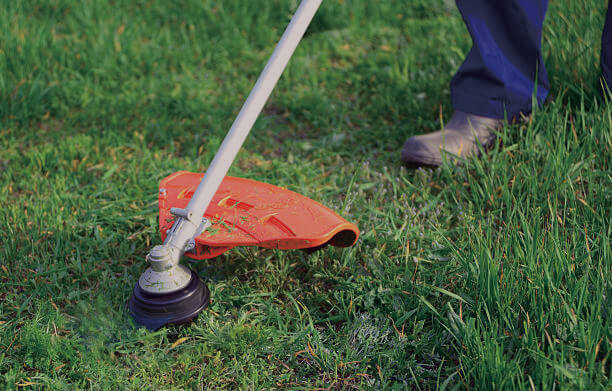 That's it for the main types of BISON brush cutters, so what else do you need to look for in a prospective model?
Factors to consider before buying brush cutter:
Here are some key factors to look for when you import a new brush cutter supplier.
• Brush cutter power
When choosing the ideal brush cutter, look at the power output of the machine. A gas powered model with over 25cc engine capacity is everything you need to maintain the largest patios and estates. Electric models are for voltage output instead of cc. When choosing the model you want, make sure it provides at least 40 volts in the motor.
• Cutting width
The cutting width of the brush cutter is about 8-18 inches. The wider this is, the more you can cut in each pass.
•Material
The material of the brush cutter should be lightweight, which can be steel or any other lightweight metal for the operator to use effectively. Heavyweight materials make the wielder's job a bit tedious, consuming more energy and time.
• Noise limits
Before introducing your brush cutter, be sure to analyze your surroundings. Electric brush cutters are recommended for sale in noise-sensitive areas such as hospitals and schools. But you can buy different types of brush cutters at the same time to meet more market demands.
• Blade material
There are mainly including four types brush cutter heads:
Blades: The blade is one of the most common brush cutter heads. They have sharp edges for cutting weeds and branches to help you quickly remove any unwanted overgrowth in your yard.
Chisels: These are smaller and more powerful than blades. They have two types of circular saws and chainsaws. For heavier brushes and saplings, these are great blades.
Shattering Blades: These blades are fully capable of shattering vegetation. They are thin and fast and can get the job done very efficiently, especially in tall, dense grass.
Mulch blades: These blades are similar to blades, but the tips are bent at about a 90-degree angle and are used to grind branches, leaves, and weeds.
• Blade size
Blade size is one of the most important aspects of buying a brush cutter.
The 3-claw and 4-tooth blades are suitable for light-colored vegetation and hay, respectively. The 8-tooth blade effectively handles dense vegetation and grooms your lawn. The 40-tooth blade is suitable for knobby bushes, shrubs, vines and saplings.
• Shaft quality and length
Since brush cutters require manual operation, a well-padded shaft for brush cutters is essential for ease of operation and smooth operation. Some of BISON's brush cutters also feature support pads that secure brush cutter to the user's body, reducing back and hand stress while working. The longer the shaft, the further the distance between the user and the blade. Longer poles can also help buyers reach branches without needing to extend the pole, but poles that are too long can be difficult to maneuver and cause fatigue.
• Quick change head
A big trend in brush cutter market is quick-change heads that allow users to easily switch between nylon cord and metal blades for different tasks.
• Handle
The handle plays a key role in whether or not it causes prolonged low back pain after using the brush cutter for a while. Therefore, BISON recommends that the best option is brush cutter with an adjustable length handle.
• Anti-vibration
Brush cutters generate a lot of vibration, causing fatigue. So looking for brush cutters with anti-vibration features can improve user comfort.
• Durability
Tools like this are often abused, and often used. So you don't want users to be damaged at work or after a few weeks of use. For this, you should look for durable machines that don't have a lot of plastic in their construction, are well assembled and don't have too many foreign objects, screws, bolts, etc. BISON brush cutters are one of those options that are built to last.
How to Use brush cutter safely
While brush cutter is a versatile and high-performance electric garden tool, it's also powerful and can pose a safety risk if you're not careful. In order for your brush cutter to start up smoothly, please note the following safety precautions when using your brush cutter:
• Cover your eyes with glasses to prevent grass clippings from getting in and hurting your eyes.
• Wear a helmet or hat to protect yourself from the sun and blades.
• Wear headphones to protect your ears from the harsh high frequency noise of the brush cutter.
• Gloves are also recommended when operating the brush cutter.
• Wear shoes to protect your body from sharp knives.
• Cover your entire body with clothing to protect your body from tools.
BISON is your one stop shop for all your power tool projects
The above is the import of brush cutter machine need to pay attention to some details, BISON provides a one-stop procurement solution to meet the needs of various brush cutters, allowing you to easily import!