Small engines are everywhere. They can power ground drills, leaf blowers, portable generators, various pumps, construction machinery, power equipment, and more. Most of small gasoline engine manufacturers will offer power ranging from 5 hp to 15 hp, And China small diesel engine provides more power.
Some small engines have vertically running crankshafts, while others have horizontal crankshafts. There are also V-twin, three- and four-cylinder small-displacement engines, some with 75 hp or more. Start with fuel such as diesel, propane or natural gas.
This is a vast market with many market segments, so there are ample opportunities for wholesale engine sales, Bison small engine supplier with stable power performance and Euro V and CE certificates, investing in BISON engines is an option you can't miss!
Check out our small engine project,to match with certified top-rated BISON small engine.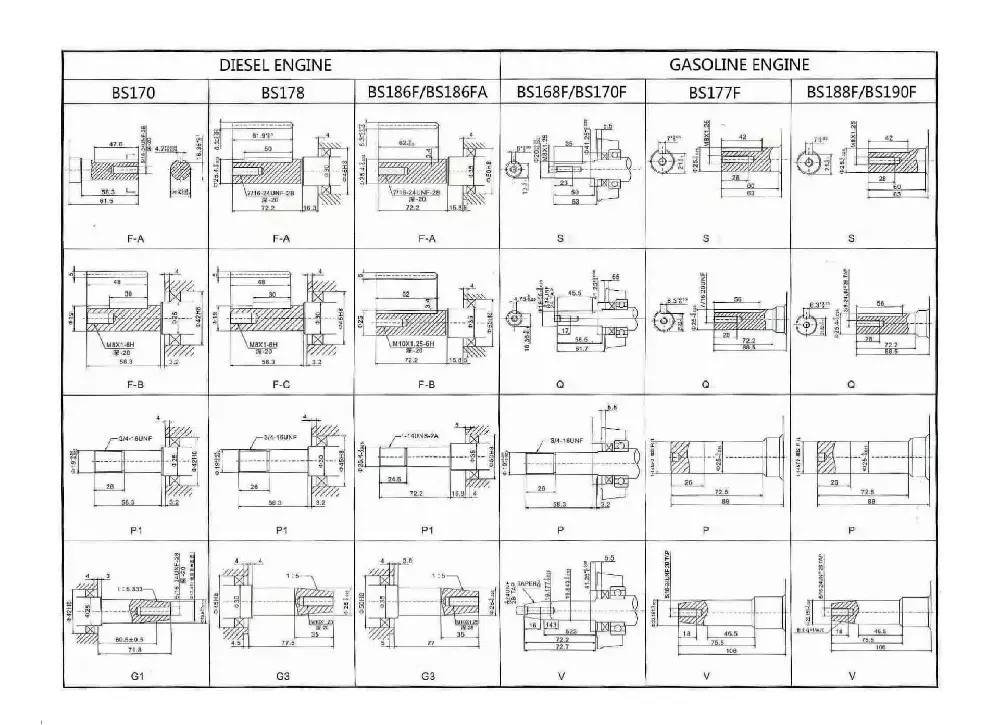 this is crankshaft dimensions for small engine.
Small engine types:
small horizontal engine
Horizontal engines have a drive shaft on one side, and BISON horizontal shaft engine is often used for gasoline pumps, generators, and other general-purpose applications.
small vertical engine
The vertical engine shaft protrudes from the bottom and is ideal for pushing the cutting blades on walk-behind and riding mowers.
Features to Consider
The recoil (or rewind) activation system is operated by a pull cord. The strong traction makes the flywheel spin fast enough to generate the voltage needed for ignition.

Electronic starting systems rely on battery power and a starter motor to ignite the combustion process that starts the engine. Some electric-start engines have recoil backup in the event of a battery failure.

The valves of an OHV (overhead valve) engine are mounted in the cylinder head so they face the piston and provide greater efficiency. A more symmetrical combustion chamber means more efficient combustion of the air/fuel mixture.

The V-Twin is designed with 2 OHV cylinders operating in a combustion chamber, which greatly reduces vibration. Crankshaft size is very important when changing an engine. Match the shaft size of the existing engine to the shaft size of the BISON engine to ensure proper fit and optimum performance.

Gear ratios take into account the application of the equipment and the speed of small gasoline engine. On most BISON small engines, the crankshaft rotates at 3600 revolutions per minute (RPM). In some applications - such as cement mixers - this speed can be too high. If you lower the engine speed to keep the cement in the mixer, the engine will have to run almost idling, unable to take advantage of the torque produced at the top no-load speed (3600 RPM). The 6:1 gear ratio engine has a gearbox integrated with the engine crankshaft, allowing the engine to run at maximum no-load speed while still utilizing the full torque of the engine. Therefore, for every 6 revolutions of the crankshaft, the gearbox and the shaft of the gearbox will turn 1 time, resulting in a final output of 600 RPM.

A low oil level system can cause the ignition to ground, stopping the engine (or preventing the engine from starting) with insufficient oil in the crankcase.

The mechanical governor uses gears and flyweights inside the crankcase to sense speed and detect changes in load, adjusting the throttle to compensate.

Pneumatic governors use a weather vane as a speed sensing device. This weather vane records changes in air pressure around the spinning flywheel. It is not as efficient as a mechanical governor.

Cast iron cylinder liners, pistons and related components withstand wear while improving fuel consumption for longer engine life. Due to their durability, cast iron cylinder liner engines are ideal for professional or commercial applications.

Splash lubrication systems direct oil to moving parts through splash motion. For example, splash oil on bearing surfaces with a bucket or slinger. As the piston moves up and down in the cylinder, a bucket is attached to the connecting rod, which splashes the oil out of the reservoir. Buckets are available for horizontal and vertical engines. Slingers are used in vertical crankshaft engines and consist of rotating gears with paddles, driven by a crank gear or a cam gear. As the slinger gear rotates, oil drains from the paddles and splashes throughout the crankcase.
The application of small engine
The widespread use of small engines in tools, household equipment, and recreational vehicles is far more widespread than many realize. Small engines are found in...
Small Engine Safety Tips
Always check the oil level before starting the engine. Fuel up if necessary. Always use the type of oil recommended in the operator's manual.

If the engine requires a mixture of oil and gasoline, be sure to use the correct ratio. See the operator's manual for mixing instructions.

Never refill the fuel tank if the engine is hot. Let it cool for a few minutes before adding oil.

Before starting small engine, make sure there is no gasoline spillage.

Do not smoke while refueling or operating machinery.

Store gasoline in approved and properly labeled containers. Use only gasoline approved for use in the engine.

Never start the engine in an enclosed space. Always start it in a well-ventilated area. Carbon monoxide or fumes can be dangerous in enclosed spaces.

Never touch the engine muffler when it is hot. The engine muffler can get very hot. After the engine is turned off, it stays hot for a while. contact with it can cause severe burns.

Never make any type of adjustment while the engine is running.

Always disconnect spark plugs before performing maintenance and safety inspections on small engine machines.

Disconnect spark plugs when machine is not in use. This safety procedure will reduce the likelihood that the machine will release energy that could cause injury.

Allow the machine to cool down before storing in an enclosed space.
Contact BISON for your small engine service
BISON small engines are designed for a variety of light industrial, agricultural and domestic machinery. Best-in-class design and reliable accessories ensure high power output. If you are not sure which engine is best for your market needs, please contact us-BISON-OEM Manufacturer Provides One-Stop Service for Small Engines Import Brand Owners, and we will help you choose the most suitable engine and do our best to assist. For small engine parts needs of different models, Let our skilled professionals help you find the parts you need.