Whether compressing soil for greater ground stability for construction projects, or for paving and pavement maintenance, vibratory plate compactors are the perfect fit for your needs. Before you start your search for the perfect plate compactor. It is important to understand the basic functions of plate compactor, the types of plate compactors, and how plate compactor machine work. In the meantime, read our detailed buyer's guide to learn about the various factors to consider when buying so you can make the right purchasing decision.
What is plate compactor?
Plate compactor or earth compactor is a motorized device with a smooth, heavy-duty compaction plate attached to a vibrating mechanism. Engine-driven, these units are used to compact fill material, ready-to-tar aggregate layers, finished tarmac and concrete, and paving stones.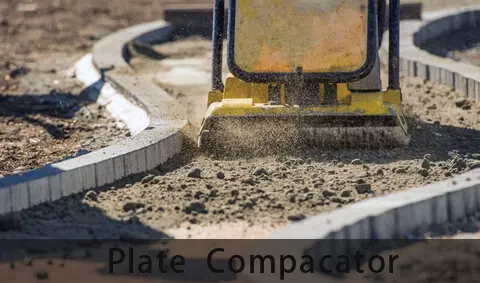 What can plate compactor be used for?
Whether it is a gardener or a construction site worker, if they want to build or maintain a new field or garden, the plate compactor can easily compact the soil or ground in any area. Why compact the soil? Through the compaction process, the loose soil can be transformed into a uniform, stable and void-free form, and the characteristics of the soil can be improved accordingly. It plays an important role in the construction of roads, canals, water conservancy, ground, railways, tunnels and open-pit mines. Also in structural, residential and industrial engineering, the correct implementation of compaction can form a durable and stable structure.
Plate compactors are motor driven and are used to compact concrete blocks, coating materials and asphalt surfaces to form pavements, as well as to receive concrete areas that require thorough compaction to provide stability.
Using a roller on very large surfaces, in cramped or awkward spaces is not useful.
It is in these intermediate situations that plate compactor comes into play, as it is compact and maneuverable.
How exactly do they work?
The plate compactor uses a large plate (usually made of steel) to apply force on the ground to compact the soil. The plate vibrates rapidly, which encourages the dirt and gravel to move closer and eliminates air.
The design and operation of the machine is simple: its main feature is a thick steel bar with curved edges. The board is interchangeable and can be coated with rubber, polyurethane or a variety of other materials depending on the nature of the surface you are working on.
A vibrating mechanism connected to an electric or gasoline-powered motor makes up the rest of the machine. The device is steered and controlled via a handlebar on an articulated stand. Provides an emergency stop in the event of an accident.
Plate compactor types:
Now that you understand how these machines work, let's take a look at what type of plate compactor you should be looking for to accommodate projects large and small. Like other small construction machinery, plate compactors can also have multiple power sources. Electric plate compactors are not common, and their uses are limited because the power cord is very inconvenient at work. So far there is no battery-powered compactor, the only option is a fuel-driven plate compactor (like gasoline plate compactor, or diesel plate compactor).
When wholesale gasoline plate compactor, there are three main types of plate compactors: (1) forward vibrating plate compactors / single plate compactor (2) reversible vibrating plate compactors (3) high performance vibrating plate compactors. The one you choose depends on the size and type of work you want to do.
Forward plate compactor / walk behind plate compactor

Forward plate compactor is also named vibration plate compactor, this is the most common plate compactor. only moves forward and cannot move backward, so the maneuverability is limited. It is mainly used to compact granular soils such as sand gravel, or asphalt in a small area.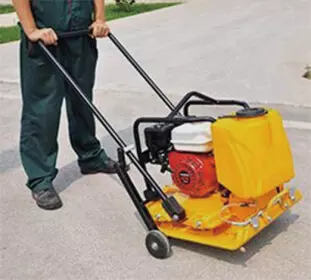 Reversible plate compactor

Reversible plate compactor moves forward and reverse, making it easier to cover large areas. They are usually more powerful than vibrating plate compactors, it is suitable for medium-sized projects such as driveways, parking lots, and landscaping.
High-performance vibratory plate compactor / Heavy-duty plate compactor
High-performance vibratory plate compactor are heavy-duty compactors, these compactors apply the most force. Typically used for deeper depth or subbase compaction operations. And they can compact soil containing clay. (However, the jumping jack compactor may be more effective.)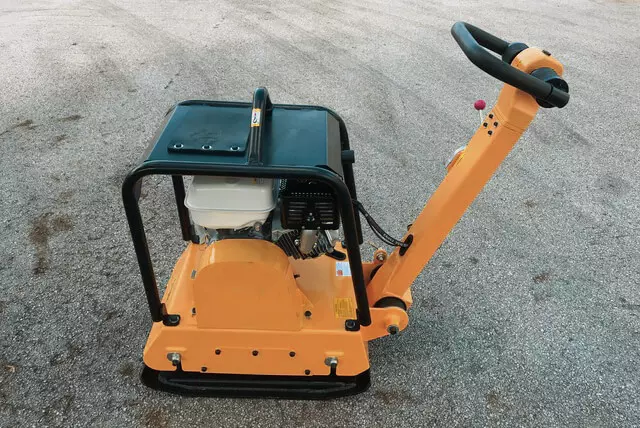 If you want to perform medium-duty jobs without requiring too much power, then go with forward compactor. Reversible and high-performance vibratory plate compactors are a better choice when looking for heavy-duty commercial pieces.
BISON is a plate compactor factory in China, and we provide a variety of plate compactors. Each type has its own unique features and benefits, and you need to know what to look for when choosing a model that suits your user's needs. So here are some factors to consider before investing in asphalt plate compactor. Let's take a closer look at the factors to consider when importing plate compactor.
Key criteria:
Compaction force in kN (kilonewtons)

Maximum speed in m/min

Vibration force m/s²

Compaction depth cm

Noise level in decibels (dB)

Maximum tilt angle (for sloping ground)
Fuel source: BISON vibratory plate compactors are most often powered by diesel or gasoline, but there are some electric options available. Consider which fuels are readily available.
Fuel powered plate compactor :
honda plate compactor, robin plate compactor...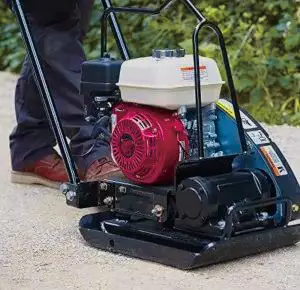 Electric motor plate compactor
Engine:
Engine power
Engine power is a key component of plate, properly compressing the material on the job site, making it more compact. Most of these compactors are pneumatic, where their small engine power is measured in horsepower (HP). Models with higher HP will provide users with better performance.
Engine capacity
Engine capacity is often seen as a measure of slab compactor performance, and BISON plate compactors with a larger engine capacity of 100 CC provide better performance than models with a 60 CC gasoline engine. Larger capacity gasoline engines result in high fuel consumption, reducing the range of plate compactor. Therefore, you need to choose plate compactor that strikes a balance between fuel efficiency and performance.

Centrifugal force:
Centrifugal force refers to the amount of force that a plate compactor can exert. Generally speaking, the higher the centrifugal force, the higher the efficiency of plate compactor. However, choosing the most efficient option to access only high power is not a good thing. Unless you're doing heavy lifting, models that typically weigh 3000 - 4000 lbs are fine.
Eccentricity (vibration frequency/Vibrations per minute)

The eccentric frequency represents the number of times the compactor hits the surface in one minute. It is in VPM. The lower eccentricity frequency is best for compacting clayey soils. For granular and bituminous materials, a compactor with a higher vpm is recommended. If you plan to handle many different types of soil, look for a model with adjustable frequency.
Plate:
plate material
Plate compactors consist of cast iron or steel plates. Both materials are equally good, and the steel plate tends to be lighter, which makes the equipment easier to handle. But iron provides more durability, compaction and sturdiness.
plate size/plate width
Different plate sizes are available for different plate compactors, where larger plates will allow the user to cover a wide area at once. Available plate sizes for these compactors range from 15" to 25". The small board is ideal for tight spaces and smaller tasks, while the large plate is suitable for more demanding tasks, where it must cover a wide area to get it done quickly and efficiently. The wider the plate, the more ground you can cover, but it is also harder to manipulate.
plate shape
The shape of the plate affects the degree of compaction. Look for a curved board, as it makes turning easier and prevents gouging. How to tell if the board is bent? Check the plate from center to edge; it should bend slightly upwards.
BISON plate compactor is made of high-strength steel, and the edge of the bottom plate is curved to ensure the stability of the work.
Handle design:
Flat compactors can vibrate, which can be uncomfortable for the operator. Choose a handle with an anti-vibration handle to reduce the burden of operating it. BISON's uniquely designed folding handle saves storage space. The humanized shock-proof pad design greatly reduces the vibration of the handle and increases the comfort of operation.
Fuel consumption:
At wholesale it is also important to know how much fuel plate compactor will consume while running, compared to performance and time. Therefore, choosing a model with low fuel consumption can help users save a lot of fuel costs.
BISON plate compactor optional features:
Water tank : Many plate compactors can be equipped with a water tank. The tank will create a barrier between the hot asphalt and the cold compacted slab. A slab compactor without any water tank can get the slab stuck on hot asphalt. If you need to work on asphalt, choose a vibratory plate compactor from BISON that can be equipped with a water tank.
Optional integrated moving wheels make machine easier to transport.
Can be equipped with urethane rubber gasket for paving.
Easy to transportation:
Some vibratory plate compactors are large and heavy that require a lot of effort to move. Look for plate compactor s with handles and/or lifting eyes for easy transport. While other machines will include folding wheels. Before purchasing, please consider how to transport the device.
Tips for Using plate compactor
Plate compactor doesn't have to be difficult to use, but a few tips will help ensure safety and help produce the desired results.
First, learn how plate compactor operates and how to quickly stop it if necessary.
Wear ear protection, safety glasses or goggles, gloves and sturdy boots when using.
Hold firmly when starting the machine. If feasible, start on a level surface to prevent it from drifting. Try a small test area to get used to the handling.
Start at a corner and go straight up and down. Then go back to the starting point and work back and forth in an area that is 90 degrees from the original direction.
Tips for maintaining plate compactor
Constant vibration, harder and more yielding surface materials, dusty environments, rain, muddy conditions... plate compactors can be subject to some extreme wear and tear. Therefore, it is best to regularly check the condition of the bottom of plate compactor and clean it after each use.
Air filters on petrol models can easily clog and should be replaced as soon as they are found.
Plate compactors with gasoline engines actually require all kinds of extra maintenance (spark plugs, proper oil, etc.).
The general condition of the machine should be checked before each use (check for loose bolts, etc.).
As you can see, there are many factors to consider with plate compactor. Finding the best plate compactor suppliers doesn't happen overnight.
BISON can help you easily complete plate compactor import!
If you're interested in learning more about best BISON plate compactor, or just have some questions, be sure to contact our team. In addition to providing information on plate rammers, we also provide information on floor saw and jumping jack rammers.