For maximum freedom of movement, control, and convenience, cordless drill is by far the best tool for drilling job. Lightweight and hassle-free, they allow you to work on the go without worrying about where the nearest plug socket is. They also take up less space than corded drills due to their compact design. But despite their many advantages, it can still be difficult for importers to know which type of China cordless drill to buy. Do you need cordless impact drills, hammer drills, power drills? What features should you be looking for to meet the specific needs of market users?
In this power cordless drill buying guide, we can learn more about the basic advantages and features of cordless drill, the different types of functions, and some key features when purchasing.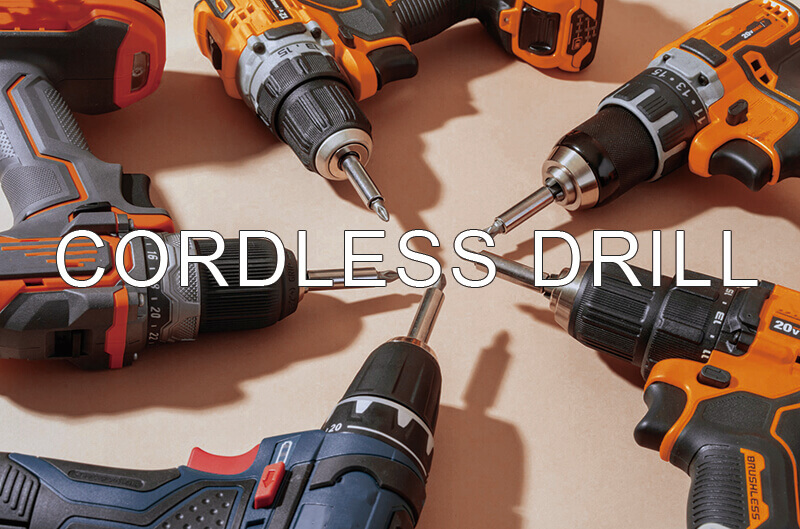 Cordless drill vs corded drill
When it comes to electric drills, there are two main categories: cordless drills and corded drills. But what's the difference between them? Which one is better?
Corded drill draws power directly from the mains, so you'll need an extension cord and a power outlet on site. Many professionals prefer them because they are less expensive and lighter than equivalent power cordless drills. They also have a more powerful and durable design, and their power is measured in watts.
Cordless drill tool are powered by a battery pack and are great for mobile. It's a must-have for any DIY or construction project. Power is measured in volts.
What are the advantages of cordless drill?
Compared with other types of drills, cordless nature of BISON drills gives it three major advantages:
The most obvious problem with corded drills is the hassle of carrying the cord around, and the power cord can also create a tripping hazard. BISON cordless drills don't have these problems because they run on battery power. The battery charger can be kept neat and out of the way and keeps the power cord from disturbing anyone.
Extremely mobile, cordless drill allows you to screw or drill anywhere.
Cordless drill is perfect for tight spaces, work at any desired angle with a compact cordless drill.
They are available in a variety of speed, torque and chuck settings. You can quickly switch between bits, adjust motor direction, and switch between modes.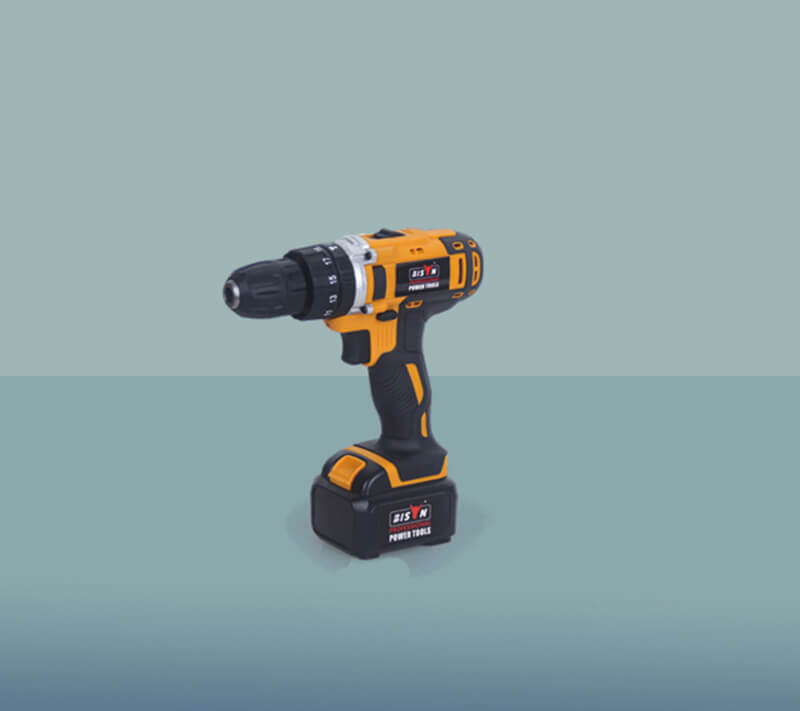 What are the features of BISON cordless drill?
Cordless drills have more than a dozen different functions, and depending on the type and model, they may have more or less of them. Features of the most common cordless drill include:
A battery that clips onto a lithium-ion battery that can be removed for charging.
Belt clip for attaching the drill to the belt.
Keyless chuck makes replacement quick and easy.
Clutch adjustment rings for different torque options.
Gear selector for different speeds.
Forward/Backward switch.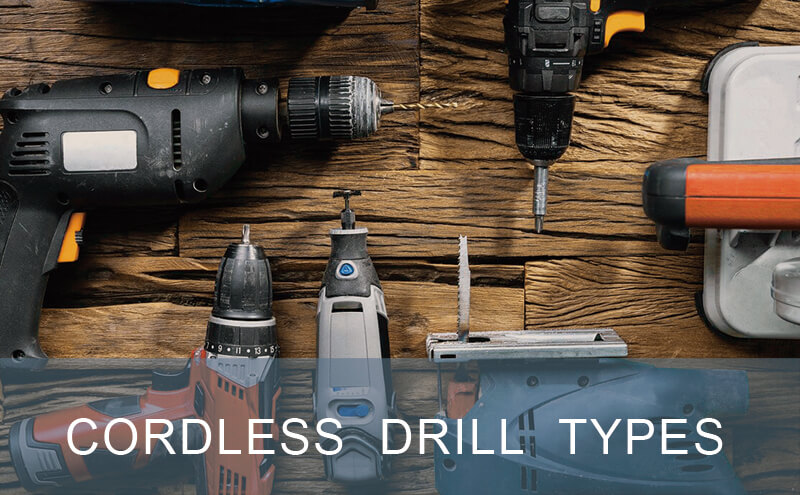 Cordless drill type
There are three main types of BISON cordless drills: light, compact and heavy. Each type is designed with a specific use in mind, so you need to decide which type is best for the intended use you need.
Lightweight cordless drills are available in 12V or 20V versions, which have a big impact on weight. The 12V version typically weighs less than 2.5 pounds, while its 20V version with a battery weighs about 4 pounds. This type is usually small enough to fit in tight spaces and is ideal for smaller tasks, so BISON recommends these drill drivers for home use only.

The most popular type of cordless drill driver is the compact, only a 20V version exists, and depending on the size of the battery, it weighs about 4 lbs, just like the heavier lightweight drill drivers. Still, there are some key differences that make this genre so popular. This drill has a ½" keyless collet, some with plastic sleeves and an all-metal collet. These bits have more torque. These bits have more torque. That's why it can handle more advanced tasks around the house and also serve as a carpenter's aid. Importers can recommend a compact cordless drill driver for those dealing with more demanding DIY tasks.

Heavy-duty cordless drill drivers are the most powerful of the three types. These models typically weigh over 4 pounds and feature larger batteries with higher capacity. They have a ½-inch all-metal collet and usually come with a side handle for a better grip. They offer higher torque and power than other types, but are also larger and often don't fit into tight spaces. This type of drill is suitable for heavy duty tasks and is recommended for professionals such as construction workers.
What need to consider when importing best cordless drill
After learning about the main cordless drill types, BISON still offers a wide variety of cordless drills, so when you're considering importing a new one, it can be hard to know which one is best for your needs. Some of the key features you should be looking for include:
battery options
The power of cordless drill will be the first thing to look for. When it comes to cordless drills, power is measured in terms of battery voltage, and the higher the voltage, the more power the drill can power. Usually BISON can choose the voltage of 12V, 18V or 24V.
Battery life depends on a number of factors, including battery type and capacity. Lithium-ion batteries are now used in most BISON cordless drills, and in addition to being safer for the environment, they are also lighter and more powerful than older batteries. Capacities are measured in ampere-hours (Ah) and typically range from 1.5 Ah to 4.0 Ah.
additional drilling factor
A powerful motor produces more torque or twisting force. Rotation speed indicates how many revolutions the drill makes per minute (usually between 200 and 1,000 rpm), and the slower the speed, the higher the torque. While high-speed tools can cordless drill faster, the higher-torque models can cordless drill through harder materials more efficiently with larger bits.
dimensions, weights and chuck dimensions
The importance of the drill's physical size and weight depends on the physical strength of the user and the expected frequency and length of use. Lighter models may weigh as little as a pound. Heavy-duty cordless hammer drills can weigh more than 8 pounds. BISON drill bits are available in three main sizes: 1/4", 3/8" and 1/2" sizes. Most current cordless drills come with 1/2" collets.
Chuck types are keyless and keyed chucks. Keyless chucks can be driven directly with an electric drill, while keyed chucks require a wrench to tighten the drill bit.
The size of the drill bit depends on the type of drill bit for the project. At BISON you can import many types of drills to choose the right drill for different tasks.
Power drill: Also known as a pistol grip drill, common applications include drilling holes and driving screws.
Electric screwdriver: Great for all screwing work at home.
Right angle drill: Allows you to work in tight spaces, such as drilling between frame studs. The collet on the right angle drill is mounted at a 90 degree angle to the drill body.
Drill driver: The drill driver is ideal for placing shelves, hanging pictures, and assembling flat-pack furniture.
Combi drill: Has all the same features as the drill driver, but with the additional hammering function.
Impact driver: Has all the same features as a drill driver, but with the additional ability to hammer. The impact action applies more torque than standard drilling mechanisms.
Hammer drill: Combines the rotation of a conventional drill bit with the percussive action of drilling holes in hard surfaces such as concrete and masonry.
SDS hammer drill: Capable of penetrating the toughest materials with ease.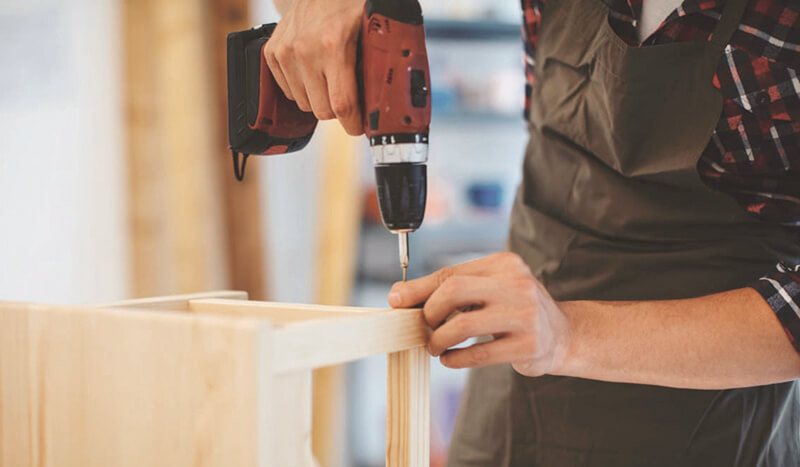 Choosing cordless drilll with a brushless motor can help extend the life of the motor.
BISON cordless drill is small and lightweight, making it easy to get into tight places with a comfortable grip to avoid blisters.
Noise from cordless drills is also an important factor. Various cordless drills produce different types of noise, depending on their brand and type.
Finally, of course, cost is an important aspect to consider. You'll pay more for bigger brands, but you'll also get quality insurance. More features also means higher costs. At BISON, you can always find a high-quality cordless drill that is full of competitive advantage.
So after all of this, which cordless drill should you import wholesale?
Get started with a free consultation
As you can see, there are many factors that influence purchasing decisions, and it all depends on your unique situation. Whether you're looking for functionality, robustness, reliability, versatility, innovation, ease of use or the best price/performance ratio, BISON has a variety of cordless drills to choose from and we're here to help. Our team of experts with years of experience in cordless drills can help customers make informed choices when importing their purchases.