Power Trowel Wholesale Guide
There are many different types of jobs in the construction industry. In all of these, having the right machine is a must to get good results and save money and time. Power trowels are one of the basic tools used in the construction industry.
Power trowels level concrete by floating and trimming. Concrete power float selection process can be confusing because there are a variety of hand-push trowels to choose and so many models from different brands on the market. You can choose the best concrete power trowel for your import project through comprehensive consideration combined with the purchase guide given by BISON.
What is power trowel?
Power trowel (also known as a "power float" and a "trowel machine") is light construction equipment used by construction companies and contractors to smooth concrete surfaces.
Power trowel is a machine for obtaining a smooth, dense and level surface on flat areas of concrete or cement.
Power trowel mainly contains other components such as engine, gearbox, blades, handle, etc. The concrete surface is polished and smoothed by the rotating motion of the bottom propeller. By placing the engine at the center of gravity of the blades or propellers, it provides greater stability and balance.

How does power trowel work?
Power trowel works on a concrete surface. It compresses the top layer and closes vents, allowing water and moisture in the concrete to rise to the surface and evaporate.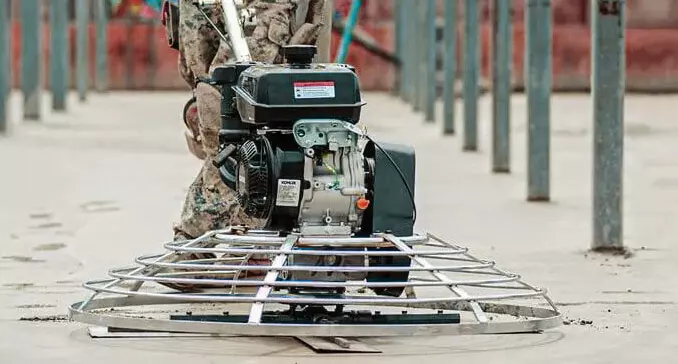 Why is power trowel highly recommended for investment?
By now, you've probably heard other contractors and even larger businesses extol the many benefits of polishing concrete with an electric trowel. But how true is what you hear?
In fact, quite a lot. Power trowel can significantly reduce labor and tooling costs, the finish it produces is very fine, you don't need to add another layer of finish screed material.
At the same time, it speeds up projects, finishers using hand-held trowel can complete 300 to 1,000 square feet per day, while using power trowel they can complete 1,000 to 3,000 square feet per day. Allowing contractors to cover more areas and handle larger jobs they may have to give up. This is great news for your power trowel project, isn't it?
Additionally, trowel polishing is a wet process that eliminates the risks posed by airborne silica.
Meanwhile, it can prevent concrete from bending, can repair small defects and increase the density of the surface.
Types of Power trowel
According to their different operation modes, BISON power trowels are divided into two main types.
walk-behind power trowel
walk-behind - It is very simple to operate this push-back rag because it is similar to a floor buffer. If you pull the handle, the machine moves to the left. Therefore, when you press the handle, it will move to the right. Walk-behind power trowel is used by the operator walking behind the machine.
Walk-behind power trowels are great for troweling concrete in small areas or close to posts, doors, walls, posts or walls because they are very lightweight and easy to manage. Any area that is difficult to access with a riding trowel.
Their working diameter is between 60 cm and 80 cm (24" -30") .
24 inch diameter power trowel: Ideal for trimming on pipes, edges and small doorways
30 inch diameter power trowel: Versatile, provides great coverage, but is compact enough to go through doorways
Their working diameter is between 90 cm and 120 cm ( 36" -48").
36-inch electric trowel: suitable for small and medium-sized floor work in general family homes.
46 - 48 inch power trowel: Large coverage, medium to large dump, all floor types.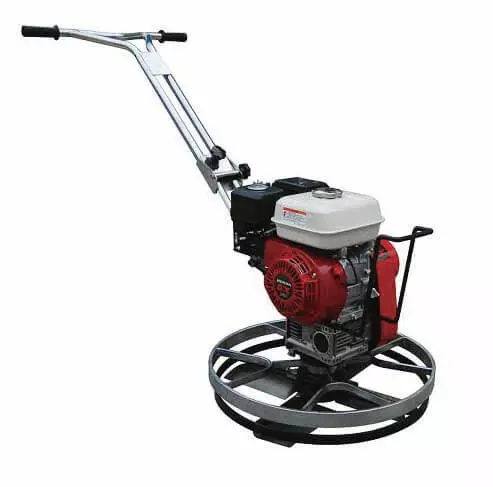 Ride-on power trowel
BISON ride on power trowel is a type that guided by an operator sitting on the machine, and the movement of the power trowel is controlled by two joysticks. It allows covering larger surfaces, such as those of industrial buildings. This machine has two sets of blades, one on each side, to speed up the process of tackling larger surfaces.
In the double-edged trowel subcategory, there are also two types:
Trowels with overlapping blades (their blades do not cross). Trowels that do not overlap, i.e. the blades cross each other.
Dual 36" diameter overlap: The easiest-to-control machine, ideal for finishing small to medium floors
Dual 46" diameter overlap/non-overlap: medium to large pours; overlap machines cannot be used with float pans
Dual 60" diameter non-overlap: Large area; provides highest FF Number (flattest Finish); Counter-Rotating Machine Allows Forward Movement Along Edges and Reduces Overlap Effects.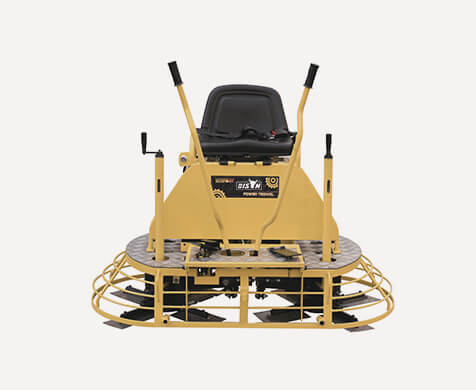 If you're still not sure which power trowel to choose, don't worry. This is completely normal. There are so many power trowels on the market that it can be difficult to choose the best one for your needs. The following factors can be further considered.
Blade diameter and type
Choose the right blade diameter according to the job application, for example, for small surface jobs, the optimal blade diameter size should be between 60 and 65 cm.
Various trowels have special features to control blade spacing. Some have rotary pitch control knobs that increase or decrease blade pitch. There are four types of electric trowel blades. BISON trowel blades come in four types:
Floating leaves; used to level small bumps and ridges on the first pass. The blade usually slides over the finishing blade,

Complete the blade; made of plastic or steel. Polishing blades are used after flotation to smooth and burn floor surfaces.

Combination blade; consists of a combination of floating blade and finishing blade. They can be used continuously during floating and finishing without modification.

Floating discs; use floating discs instead of floating blades during the first pass.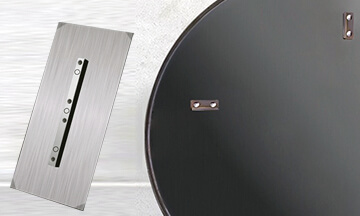 Blade mounting system
The blade mounting system varies from manufacturer to manufacturer. Even so, blades from different manufacturers can sometimes be interchanged. Some blades are clamped on, some are directly bolted to the trowel arm. BISON adopts a special design to facilitate the replacement of the blade, which only takes a few seconds or minutes.
Power type options
Depending on the needs of the project, we can also distinguish between electric and gasoline powered trowel.
Gasoline engines are the most common, they make leveling concrete easier because they are more powerful and don't require cables, and gasoline engine powered trowel provides greater mobility. Of course, BISON also has electric motor power trowels as an option when the internal combustion engine cannot be used for certain requirements, like exhaust gas can be a problem in enclosed areas. The less commonly used electric motors do not produce harmful air pollution.
They usually have a variety of horsepower to choose from. More power in a machine means that work can be done more efficiently and faster. If the power is insufficient, the quality of polish will be affected. but keep in mind that this may increase your costs.
Gearbox
A gearbox made of high-strength steel shafts will be the best. Sometimes, the gearbox can also be made of aluminum and cast iron. In any case, durable materials are always preferable.
Weight
Considering that the weight of walk-behind power trowels and ride on power trowels plays a very important role in transporting the facility to the workplace, users often assume that transporting dual-riding trowels to the workplace will be complicated.
Weight affects mobility. In other words, when we use power trowel, the harder it is to move power trowel, the worse power trowel is. If the machine is heavy, it will be difficult to move it, while if it is light, the work will be done easily and quickly.
Size
Common sizes of power trowels are 24, 30, 34, 36, 40, 42 and 46 inches
24 inch (600 mm) diameter trowel: When you plan to trim narrow places such as pipes, corners, etc., a 24-inch trowel is suitable.

36-inch (910 mm) diameter trowel: it is suitable for all types of ground. It is most suitable for small or medium-sized workplaces.

46-inch (1160 mm) diameter trowel: Just like a 36-inch diameter trowel, it is suitable for all types of ground. It is usually used for medium and large projects.
Other optional functions
For walk-behind power trowel, Other features to look for include easy-to-use trowel blades, quick blade spacing adjustment, height-adjustable handle, ergonomic throttle control and optimal balance for smoother trimming.
Variable-speed power trowels are very suitable for improving the surface finish of terrazzo and epoxy mortar floors. And allow the operator to adjust the speed of the trowel to match the consistency of the mortar.
besides the size, ride on power trowel also needs to check the weight to power ratio of the machine, the drive system, the convenience of pitch control and the accessibility of the blade. Look at the weight to power ratio of the machine, drive system, ease of pitch control and blade accessibility. A front and rear lighting system for the rider for better visibility in dark work areas. There is also a spray system to prevent the concrete from drying out too quickly. On some machines, many of these functions are standard.
Precautions when using power trowels:
Of course, precautions need to be taken to avoid potential accidents when using power trowels. These safety measures mainly focus on wearing good personal protective equipment:
Earmuffs protect us from noise.
Footwear with non-slip soles.
Goggles.
Gloves to prevent collision with objects that may be projected by propeller action.
Maintain and use rules
Maintenance or cleaning tasks must be performed with the machine turned off.

Contact an authorized, qualified person if the machine needs maintenance.

Remove any stains or oil or fuel spillage from the machine before starting it.

Do not touch engine parts while the engine is running.

Remove cables from the work area.

Never turn on a machine when it's alone.

Fuel up while the engine cools and shuts down.

Store the machine in a covered area and away from transport.
Power trowels are an essential tool in the construction industry when we are looking to smooth concrete surfaces. With so many brands and models, the choice is more complicated. If you are still in doubt about which one to choose, please contact BISON for advice. Or if you would like to ask us any other questions, please feel free to contact us. We are always at your service.