High-pressure washers are versatile and can be used to clean almost all surfaces. Diesel pressure washers are used in industrial applications and can run without electric power. To choose the right diesel pressure washer, you need to consider some factors, such as fuel type, safety features, power capability, etc. You can find a diesel high-pressure washer that suits your needs from BISON new and old models.
Why choose diesel high pressure cleaner?
Diesel pressure cleaners are the most durable engines used in the power washing industry. Their service life is longer than any electric or gasoline-powered pressure washer.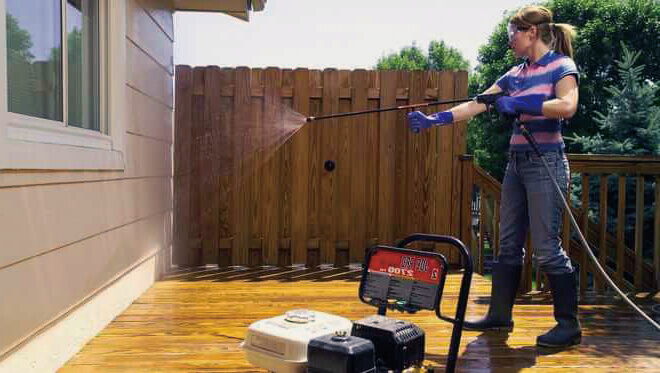 Cold water high pressure cleaners provide efficient cleaning and efficiently remove large amounts of dirt, grime, animal feces and other contaminants from surfaces and machinery. High pressure helps loosen debris, while high flow rates can push it away from the surface. Diesel-powered washers can be used without cleaning chemicals, but for surfaces contaminated with grease or oil, they may need to be added.
Although diesel pressure washers have higher upfront costs and require regular maintenance, their advanced cleaning capabilities make up for the increased price tag and labor requirements. Compared with gasoline-powered pressure washers, diesel-powered pressure washers have a longer working capacity.
Let us talk the advantages and disadvantages of diesel high-pressure cleaning machine, and the necessary characteristics of the purchase of cleaning machine, BISON diesel cleaning machine main types and accessories recommended, the use of diesel high-pressure cleaning machine tips.
Advantages and disadvantages of diesel engine driven high pressure washer: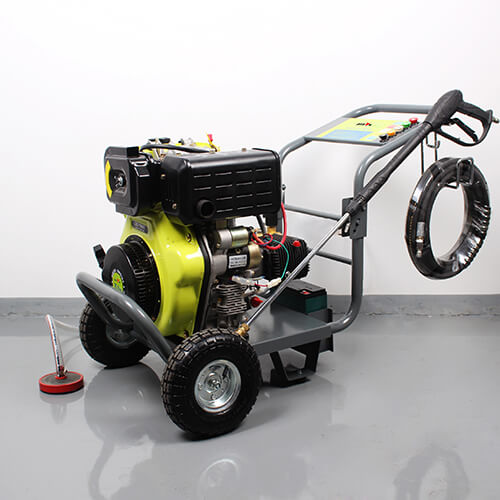 Today's diesel pressure washers are designed to do the toughest commercial cleaning job in a short amount of time. Let's look at the advantages of buying a diesel pressure washer.
| | |
| --- | --- |
| Advantages | Disadvantages |
| fuel-efficient | High upfront costs |
| high flow | |
| running durable | |
| more security | |
| low maintenance | |
One of the advantages of diesel pressure washers is fuel efficiency. Although diesel can cost more to buy, if properly maintained, it lasts much longer than petrol and can run for hours on end.
On top of that, they tend to have higher flow rates and more powerful engines, thus minimizing cleaning time.
Safe, because diesel doesn't explode like gasoline; There are facilities and jobs that require diesel to be the only fuel source in the area.
Diesel engines tend to be the heaviest load, with lower maintenance and greater flow than gasoline engines. BISON diesel high pressure washers are fuel efficient and durable, so they're great as a long-term investment. Unfortunately, they do tend to carry a higher base price tag.
Main features of diesel generator to consider:
Choose the diesel pressure washer that suits your needs:
Water temperature
Either cold or hot; Most models currently offered by BISON can only use cold water.
Pressure
The higher the pressure, the faster the pressure washer will remove marks and dirt (mud, foam, etc.). Therefore, when making a choice, you need to consider the type of dirt to be cleaned and how often you use the pressure washer. BISON diesel line of pressure washers includes machines with pressure levels from 2500psi to 3600psi. Use the following values as a guide:
170 to 200 bars will effectively clean outdoor walls and terraces larger than 50 square meters;


200 to 230 bar for clean agricultural, industrial or construction machinery;

250 bar or higher will ensure more efficient cleaning of terraces, outdoor walls and agricultural or industrial machinery.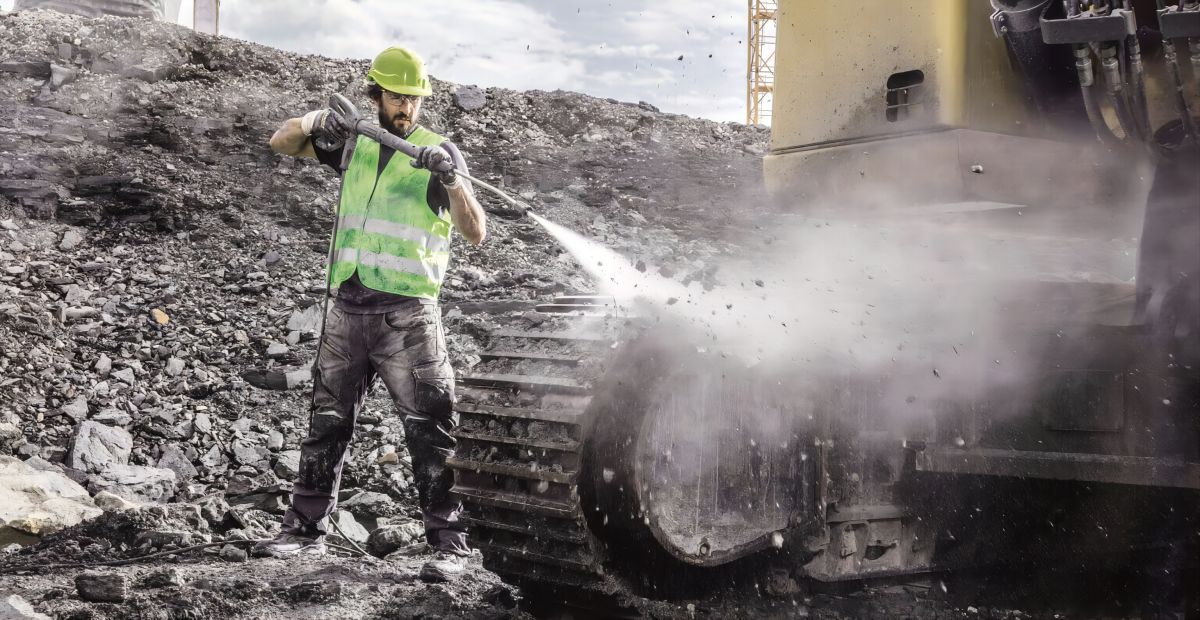 Flow rate
The flow rate refers to the amount of water discharged in a given time, and the flow rate determines how long it takes to clean the surface: the higher the flow rate, the faster and easier the cleaning work, the higher the efficiency of the pressure cleaner;
Diesel high pressure washer accessories
It is worth noting that high pressure cleaning machine usually with a variety of accessories (nozzle, high pressure hose, etc.), importers in the procurement of the whole machine at the same time, can buy more related components and accessories wholesale sales at the same time, so that cleaning is easier and safer. These include:
accessories
using
direct injection nozzle
general cleaning unlock remove dirt
extension of the hose
work at height (roof, gutters, scaffolding, etc.)
rotating nozzle

remove dirt from floors/walls

light off/clean concrete

car wash brush

clean body

clean the wheel/rim

extend the spray gun

cleaning the floor (e.g. using a floor brush)

clean tall vehicles (trucks, tractors, etc.)
BISON diesel pressure washer types
When choosing a diesel high pressure washer, you need to figure out what you want to do with it and how often you want to use it. BISON diesel pressure washer manufacturer offers a range of diesel-powered cleaners to meet the application requirements of different importers. Read more tips on buying high pressure cleaners here.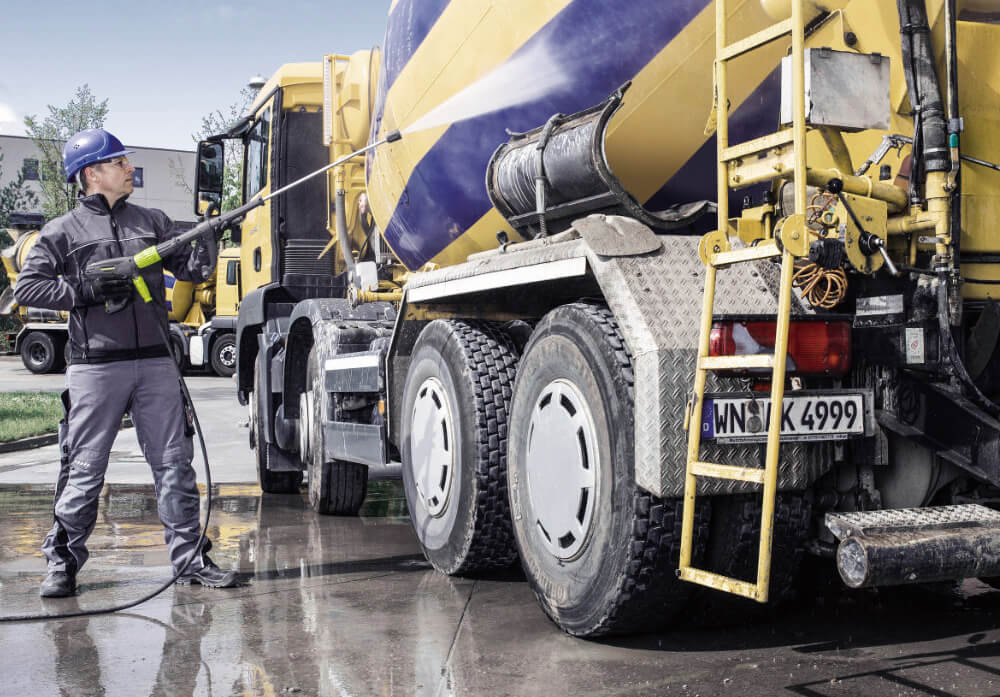 For intensive use and/or cleaning large or very dirty surfaces, you should look for a diesel-powered hot water high-pressure cleaner with a pressure class of 250 bar and a flow rate of at least 15LPM. These high-power high-pressure cleaners are ideal for use in oil fields, military bases, farms and ranches, truck fleet cleaning stations or other harsh outdoor workplaces. Ideal for heavy industry and mining applications.
Professionals looking for a high pressure cleaner for everyday use should choose one with a diesel engine, high flow rate (15LPM) and high pressure rating (170 bar).
BISON heavy-duty industrial diesel washer has enough power to clean everything from sidewalks to semi-trailers. But, the pressure washer should be used outdoors. If it is used indoors, it must be properly ventilated.
When our standard high pressure solutions do not meet your requirements, BISON can also offer custom-built diesel power cleaners to meet diverse needs.
BISON has diesel pressure washer to meet various business needs
Tips for using BISON diesel high pressure cleaner
Finally, let us understand the cleaning machine in the safe use of the point need to pay attention to.
Take a break to prevent the pressure cleaner from overheating.

Wear hearing protection.

Always run the high pressure cleaner until the fuel tank is completely emptied (otherwise poorly filtered fuel residue may clog the carburetor).

Store the high pressure cleaner in a dry place.

Empty hoses and spray guns and disconnect if high pressure cleaner is exposed to negative temperature (e.g., while in storage).