Gasoline engines can be used to manufacture to meet the requirements of any conceivable power-plant application. For example, cars, small trucks, buses, aviation planes, machine tools, lighting equipment, etc. Gasoline engines have compact size, simple structure and efficient performance. BISON also provides a series of gasoline engines to meet the import needs of different buyers, let us find out together!
But before that, if you are not familiar with gasoline power, or have never wholesaled gasoline power, you can follow us to briefly understand the basic working principle of gasoline power, and then learn how to choose different types of gas engines.
How does gasoline engine work?
Gasoline engine, any of a type of internal combustion engine that generates electricity by burning volatile liquid fuels (gasoline or gasoline mixtures, such as ethanol) and sparking ignition.
Two stroke and four stroke engine generate power in much the same way. The steps of 4-stroke process include: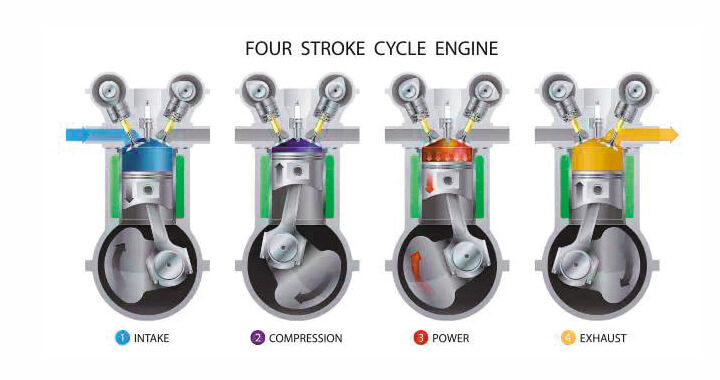 The intake phase ( downward movement of piston) draws air and fuel into engine cylinders.

During compression phase (where piston moves up), engine's pistons compress air/fuel mixture.

During power phase, spark plug ignites air/fuel mixture, creating an explosion in combustion chamber that forces piston down (driving machine to work).

During exhaust phase, piston returns to expel exhaust gas.
Two-stroke engine does all same steps, but only in two piston strokes.
Things to consider when importing gasoline engine
Regardless of whether you have imported gasoline motors, if you know the make/model of your equipment and are looking for a replacement engine supplier, please refer directly to our BISON product page for information on replacement engines, otherwise the most important thing is to understand the following. The main specifications and/or features of the engine to find the most suitable engine.
Brand model number
Engine model number can be located in many different locations, depending on manufacturer, and is usually located somewhere outside engine where it will be stamped, engraved or printed on engine. All true engines are manufactured with an engine model and specification. Sometimes they can be hard to find, but they are definitely there. The picture shows BS168F model engraved by BISON gasoline engine.
Horsepower
As small gasoline engine manufacturers introduce new models, you may not always find that your application's replacement engine will always have the exact same horsepower as your previous engine. In that case, look at a recent model with less horsepower or preferably more with the same specs and features as the older model's engine. For example, if you replace 6Hp BISON petrol generator engine and 6.5hp with the same specs and features is available in BISON latest range, then this will be your replacement engine option.
Crankshaft position (horizontal or vertical)
Horizontal shaft engines are most commonly used in water pumps, generators, wild dog machines and other equipment. A horizontal axis means that the axis is parallel to the ground.
Vertical axis engines are most commonly found on lawn mowers, where the vertical axis means the crankshaft is pointed towards the ground.
Number of cylinders
It is important to replace old engine with an engine with the same number of cylinders. For example, a large lawn mower fitted with V-twin engine will use the full torque of its engine and power from engine, so the device can use its full capacity. BISON single-cylinder engine cannot produce the same specifications as BISON V-twin engine.
Cylinder head style (flush or overhead valve)
With the exception of a very few engine models, the older flatheads are now mostly out of production and increasingly scarce. So most of our focus here is on the newer OHV engines and the issues you might run into. OHV models are usually longer (vertical axis models) or taller (horizontal axis models), which can be problematic in some cases, but if all other factors are equal, this is a very "workable" exchange. The OHV version is also generally more efficient and more powerful than its flat-headed counterpart, which is a definite benefit. However, you have to consider the exhaust system requirements again as they are most likely not compatible between the two engine types.
NOTE - The exhaust system for the OHV version may be mounted on the opposite side of engine from the flat head model, which would wreak havoc on any installation.
Crankshaft Diameter, Length and Height
For horizontal shaft engines, while the diameter measurement is obvious, please note that you should take the length measurement from the oil seal to the end of the crankshaft. Also, don't overlook the importance of crankshaft height, as this distance will vary by engine model and brand. Depending on the application, this can be a critical measurement!
For vertical shaft engines, there are two main measurements to consider, as well as the type and number of keyways required for your application.
In addition to diameter and length, it is important to know the keyway size and number of half-circle keys (if any) required for your application. Half-round keys are "half-moon" shaped keys that may be required to attach pulleys or other accessories to the crankshaft.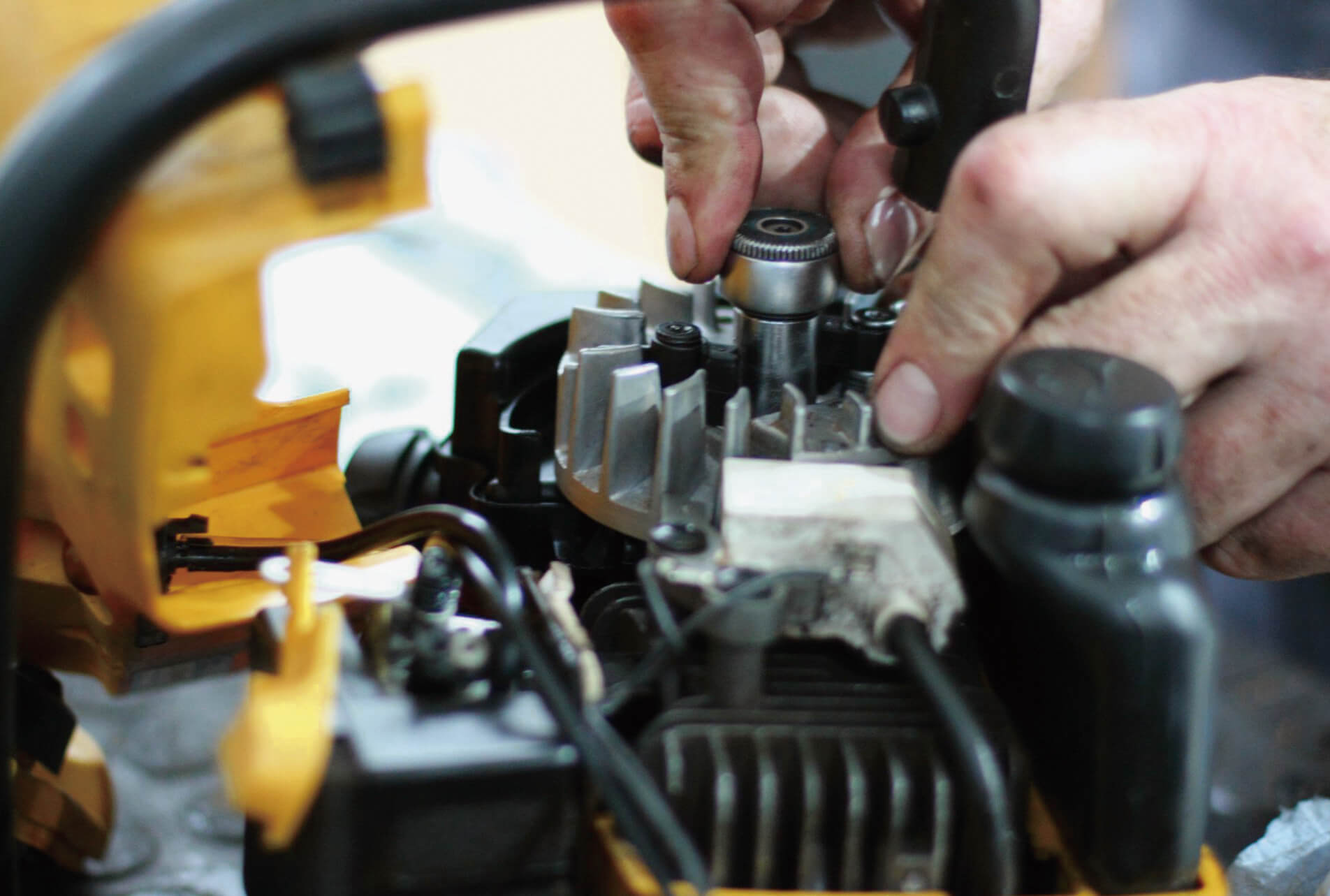 Different types of gasoline engines
BISON gasoline engines are divided into Two-stroke engine and Four-stroke engines.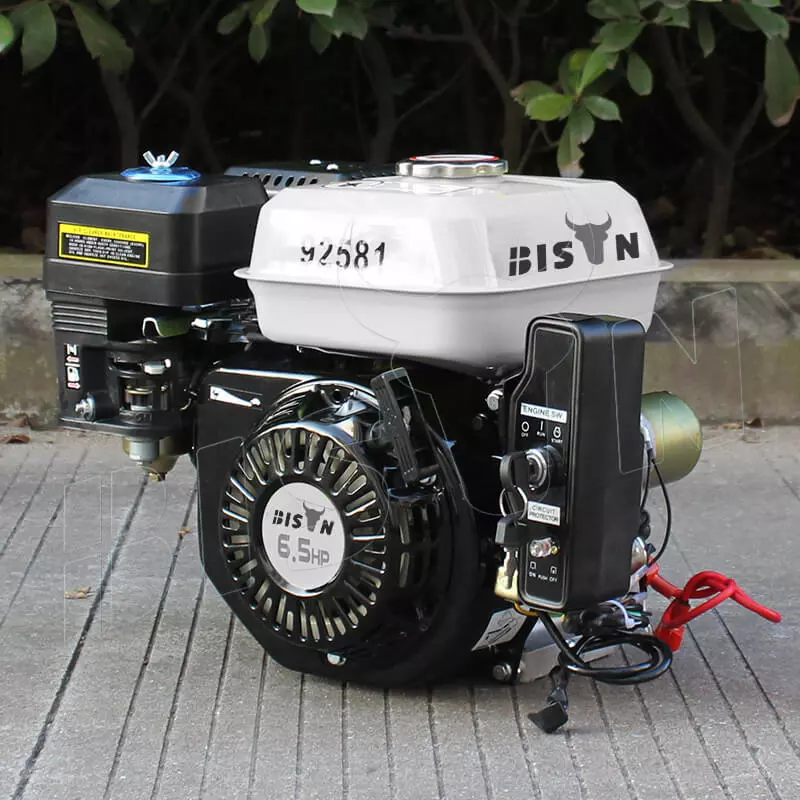 2 stroke and 4 stroke gasoline engines have different application areas. Four stroke cycle engines provide power for generators, water pumps, lawn mowers, most automobiles, light trucks, medium and large motorcycles, etc. Two-stroke air cooled gasoline engines mainly provide power for electric tools, hand-held garden tools and small outboard marine engines, such as chainsaws, lawn mowers, leaf blowers, etc.
Horizontal and vertical shaft gasoline engines
Horizontal shaft gasoline engine
In BISON horizontal gasoline engines, the crankshaft is oriented laterally on the device (pistons move vertically). These engines are mainly used in chainsaws and leaf blowers.
vertical axis gasoline engine
In vertical axis gasoline engine, the crankshaft is oriented vertically on the device (pistons move horizontally). These engines are mainly used in vertical engine string trimmers, brush cutters and small tillers.
In addition, BISON gasoline engine, there are wholesale 1/2 reduction engine series. Mainly divided into two different reducers, one is 1/2 gasoline engine with gear deceleration, and the other is 1/2 gasoline engine with clutch deceleration.
Contact BIAON for your gasoline engine service
If your engine fails, it may be time for a new one. BISON product line is designed for a wide range of industrial, agricultural and domestic machinery. As a professional Chinese engine manufacturer, our first-class design and reliable accessories can ensure high power output. You don't need to worry about the quality and durability of any engine, as every powertrain is produced to strict industrial ISO9001 standards and undergoes detailed factory inspections.
Looking to buy high-quality, reliable engines and accessories for your DIY projects? Whether you're looking for a replacement lawn mower engine or generator power, you'll find it at BISON-machinery.com.
Explore more on small gasoline engine
China BISON provides you with very convenient service, we guarantee fast delivery, reasonable price, and provide you with complete accessories and service support. If you are not sure which engine is best for your needs, please contact us and we will help you choose the most suitable engine and do our best to assist.